909 News
The Winfield Family Reunion
Above image: Above image: Joy Zimmerman performing at Walnut Valley Festival campground Stage 2. | Photo submitted by artist
It's a tradition 46 years in the making, drawing around 15,000 people to the southern Kansas city of Winfield on the third week in September. The Walnut Valley Festival — "Winfield" for those in the know — brings together lovers and connoisseurs of folk, bluegrass, old-time country, among other traditional acoustic forms. Because it's only a 3.5-hour drive from the metro area, Winfield is a pilgrimage for many Kansas Citians. That means up to five days of watching some of the world's best folk instrumentalists, camping with round-the-clock jams, and reconnecting with old pals from far and wide through the shared love of music. Here are a few perspectives from area musicians headed to the Walnut Valley Festival this week. Their responses have been edited for clarity and length. What is the Winfield experience, and why should people attend? Eddie Crane, frontman/guitar for Loaded Goat: I've been going to Winfield for 17 years. I've seen floods, frost, heat waves, tornadoes and more. The experience is much more family reunion than it is a music festival. I spend all of my time in the campgrounds with friends, some of whom I only see at the Walnut Valley Festival. It's the only festival I know of where so many professional musicians pay to attend; usually we only see a festival if we're hired to perform. Chris DeVictor, bass for Konza Swamp Band: This will be my 16th year in a row. Winfield can be described in a million different ways — I like to think of it as "musical stew," especially the late-night jamming in the campgrounds! Betse Ellis, fiddle/vocals for Betse & Clarke: There are lots of reasons to attend, and I must say perhaps it's not for everyone. Who it's for: people who love to camp and play music all day and night, people who love a fairground music experience, people who are fans of live music of the folk/bluegrass/old-time/songwriter/progressive acoustic music represented on the festival stages, people who love to see their neighbors get up and play on the campground stages. Joy Zimmerman, singer-songwriter: I've been to the Walnut Valley Music Festival six times. Winfield is famous, of course, for bluegrass, but I happily discovered more musical variety than I had initially guessed. I've enjoyed pre-festival songwriting workshops, bands with great harmonies and instrumentals, and impressive performances in national and international competitions. Thousands of people come back year after year to hear the music, but it's far from a spectator sport. You can always find great jams around the campgrounds to jump into. What has it done for you as a musician and music lover? EC: Attending this festival has grown me as a musician due to the contagious fervent passion shared among attendees. Also, it has been an amazing place to meet like-minded folks and network throughout our genre of music. Lastly, it can be great exposure for up-and-coming bands who want to perform for a passionate fanbase. CD: Musicians and music lovers should attend this festival to see, hear and experience music everywhere for a week! For me, the whole Winfield experience has made me a better listener, a better player, and a bigger fan of music. BE: It's been my tradition since 1995. I was in my mid-20s and was fresh into old-time music. I'd never been around so many people who were so into folk music. I guess it blew my mind. The Wilders quite literally grew up at Winfield. We were a rare breed, to come out of playing the campground stages to playing the main stage. I am not sure if that has happened to any other group playing the festival. It was a special, exceptional thing that we achieved and it sits in my memories as an incomparable thing. From 2000-2011, we played every year except 2008 (and I still went down there; it was a flood year and camping was moved to Winfield Lake).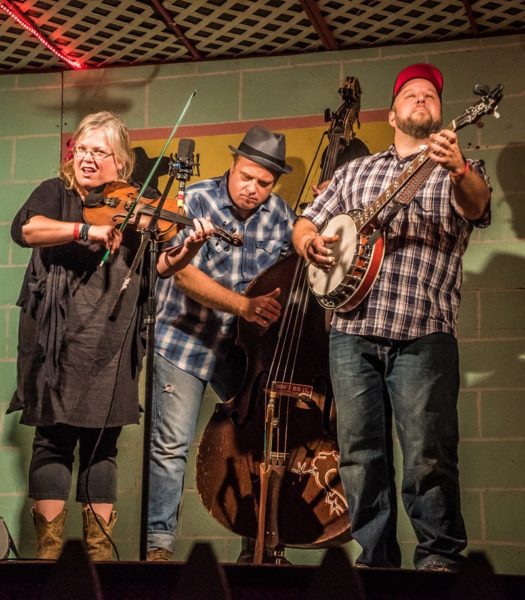 Betse & Clarke's debut at Winfield in 2015. | Photo: Martin Ufford
JZ: My favorite part of the festival is the New Song Showcase. Winners get to perform during the festival, and each contestant receives valuable feedback on their entries. I've loved playing in the festival when my songs have won and have greatly appreciated the affirmation of my songwriting. I have also learned from watching performers adapt from smaller stages to larger ones during the same festival. Performers are usually accessible after each show, so you can often make personal connections. It's also fun to see some of the same musicians and music lovers year after year. Many folks mark time with Winfield as a permanent fixture on their September calendar. Where will you be performing and who do you look forward to seeing? EC: I'll be playing with Loaded Goat, and set times are announced day of on the campground stages. I don't think we'll ever get invited to play the main stages. I don't think we're square or well-behaved enough. I look forward to seeing all of the friends that I only see each September. It's the only opportunity most of us can afford to gather from all parts of the world. CD: I play doghouse in The Konza Swamp Band. We will be playing on and around Stage 7 all weekend. Many of these campground stages have their own daily sign-ups for bands/musicians. I am looking forward to seeing some of the main musical acts, such as Betse & Clarke, Driven, and Socks in the Frying Pan. Also, Winfield is a reunion for me in many ways. This is the only time of year when I have a chance to see, catch up, and play music with some friends and family. BE: We (Betse & Clarke) have a unique ability with our group; we perform as a duo, a trio, and a full string band. Today we'll play as a duo, Friday as the trio with Brett Hodges, and Saturday/Sunday our bass player Alex Mallett joins us. There will be lots of acts to enjoy on the main stages, but a lot of the heart and soul of Winfield is in the campgrounds. The campers make this festival what it is. Stage 5 and my other favorite, Stage 7, are precious places where the love of music and community is unmatched. I love the people who put these stages on, the people who play these stages, and the people who come and unabashedly cheer and holler for every soulful moment. JZ: I'll be performing my song, "Jubilee," which won in the Religion/Spirit category, with my son Ryan in the New Song Showcase on Thursday. Later that evening we'll play a set on Stage 11, a stage established a few years ago to feature songwriting. I'm looking forward to hearing Socks in the Frying Pan, Still on the Hill, Della Mae, Betse & Clarke, other winners in the New Song Showcase, contestants in the International Finger Style Guitar Championship, and any other new music we happen to run across. Other highlights will be seeing friends Donna and Kelly Mulhollan of Still on the Hill and our Stage 11 songwriting friends. The Walnut Valley Festival started yesterday and runs through Sunday in Winfield, Kansas. More information is available at this link. —Michelle Bacon is a musician and writer dedicated to the Kansas City music community. She advocates for and helps spotlight music in the area, writes web content for 90.9 The Bridge, and plays drums with Chris Meck & the Guilty Birds.
Related articles