909 News
Weekend Roundup: Get Your Flock On
Above image: Broken Arrows, who will headline recordBar this Saturday. | Photo: Emily Evans Sloan
If you find yourself in the Crossroads for First Friday, be sure to stop by 19th and Wyandotte Streets for some free music at the Crossroads Flock Party. The sixth annual kicks off at 5 p.m., with performances from Arc Flash, Claire Adams (check out our premiere of her new single), HighWesthus, The Whiffs, Dreamgirl, Natural Man and the Supreme Court, Reptil and BLKFLANL. There's also a free bike valet, live drawing, a skate demo and local makers.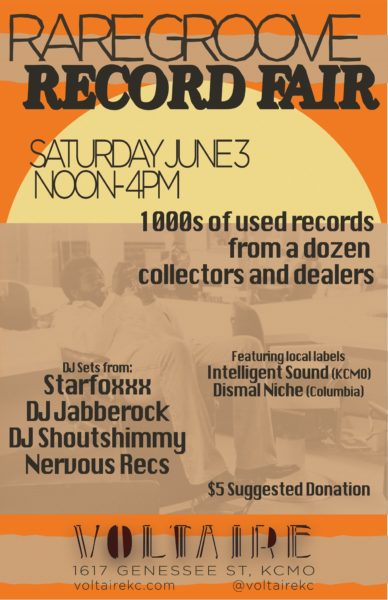 Spend your Saturday afternoon in the West Bottoms digging through treasure troves of wax. The inaugural Rare Groove Record Fair at Voltaire will feature used collections from several local vendors, independent label releases (KC-based Intelligent Sound and Columbia, Missouri-based Dismal Niche), DJ sets, and snacks and drinks.
The monthly Saturday Storytellers show at Ollie's Local invites songwriters to share stories about their craft. This weekend, you can hear from two artists based in St. Joseph, Missouri — Billy of the Valley and Simon Fink, from Under The Big Oak Tree. The late afternoon show is free.
Tomorrow night, recordBar hosts three bands you probably haven't seen in awhile, or perhaps at all. Maria the Mexican will warm up the crowd with its stirring, Mariachi-influenced approach to modern rock. They'll be followed by the powerful pop-punk of The Pedaljets, in its first show of the year. The newest band on the bill, Broken Arrows, will headline the night, offering a Midwestern spin on polished garage pop. Proceeds for the show benefit the Audio-Reader Network, a reading and information service for blind, visually-impaired and print-disabled individuals.

In case you missed the first Sir Elton John tribute show, you'll get another chance this Saturday. Summer Breeze is presenting a night of his early hits at Kanza Hall, with guest appearances from several KC musicians, including Crystal Rose, David George, Rich Wheeler and more. The show is a benefit for Steps of Faith Foundation, which helps amputees with the financial burden of prosthetic care. Find out more about the foundation in this Giveback Friday with The Bridge's Jon Hart and Steps of Faith founder Billy Brimblecom.
A few months ago, Sir Elton John himself walked into a Vancouver record shop, requesting a Tech N9ne album. Even though Sir Elton didn't get his wish, you can catch the KC native rapper at The Midland on Sunday night, as he returns from his "Strictly Strange" tour. —Michelle Bacon
Related article