909 News
Weekend Roundup: Fed Up Fest, Sound Machine and more
Above image: by Phil Clarkin Photography: Split Lip Rayfield
On Friday, Lawrence, Kansas ensemble Cowgirl's Train Set will begin a seven-date tour at The Westport Saloon in support of its new album, "Oh Please, Oh Please." The five-piece group twists the folk/bluegrass genre with influences from aggressive, hooky-punk to jazz and swing. Special guests Old Sound (with Damon Parker of The MGDs) will open the show.
Take a trip out to Mission, Kansas on Saturday to celebrate Brothers Music KC's first birthday. The record store will have all-day sales and specials, food trucks and a free, all-ages show that evening with B R O T H E R and Mess.
Want to support a great cause while taking in a great show? This Saturday, CrossroadsKC will showcase two stages of music for Fed Up Fest, a benefit for Harvesters. Various Blonde and The Phantastics will get the main stage warmed up for Hippo Campus and Sylvan Esso. The second stage will feature the Talking Heads' tribute group Found A Job, bluegrass cowpunks Split Lip Rayfield (pictured above) and the delightful circus-like spectacle of MarchFourth. Tickets are available.
The Record Machine is presenting the first installment of its Sound Machine concert series on Saturday at recordBar.
"It will be a great place for new music discovery," said The Record Machine owner Nathan Reusch. Reusch, who also curates Middle of the Map Fest, aims for Sound Machine to bring in big headliners while highlighting local acts.
"We've always wanted to show off what's here in KC 365 days a year, and pair it with national talent to get it more attention," he said.
On its 35th anniversary North American tour, Japanese pop-punk legends Shonen Knife will headline Saturday's inaugural event. They will be joined by eight other bands — including touring acts Leggy from Cincinnati, Ohio and darsombra from Baltimore, Maryland. A variety of KC and Lawrence-based acts will also perform, from the maniacal, masked punk blues of Drop A Grand to the gritty, atmospheric rock of Weyward Sister and the stripped-down bass/drum party rock of Macemouth.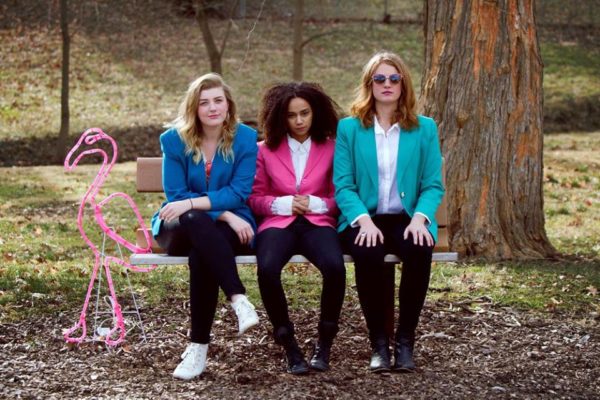 Lovergurl | Photo: Kit Doyle Photography
In celebration of National Coming Out Day, Riot Grrrl is celebrating with its Out in October event at miniBar on Saturday, with appearances from Lovergurl, Sister Mary Rotten Crotch, C-Rex and Ana Marcela Maldonado. A portion of proceeds from the door will be go to SAVE, Inc., an organization that provides housing solutions to socially and medically disadvantaged people.
— Michelle Bacon is a musician and writer dedicated to the Kansas City music community. She advocates for and helps spotlight music in the area, writes web content for 90.9 The Bridge, and plays with The Philistines and Chris Meck & the Guilty Birds. Her grandma will always be the coolest person she knows.
Related articles