909 News
Weekend Roundup: Get in the Swing of Things
Above image: Above image: Havilah and Triple Play releases its debut album at The Black Dolphin on Saturday night. | Photo submitted by artist
Last month, we highlighted the debut seven-inch record from Victor & Penny – a two-track effort that epitomizes the duo's buoyancy and warmth. Tonight, they're putting on a free in-store performance at Josey Records, and will have a few albums on hand. Opening the show will be another enchanting pair, The Country Duo, with singer-songwriter Kasey Rausch and guitar wizard Marco Pascolini. Their seven-inch was released earlier in 2017 and was recorded at the historic Sun Studios in Memphis.
At the beginning of 2017, Danielle and Jacob Prestidge — known to fans as The Blackbird Revue — packed up and relocated to Los Angeles. In that time, they've kept busy by amassing a new West Coast fan base and working on new music (check out Wyndsrfr, Jacob's ambient electronic project). They're coming home for the holidays, and performing an intimate Christmas set at Thou Mayest Coffee tonight. Missing their gorgeous harmonies as much as we do? Show up early and get a seat; the room only holds about 50 people.
'Tis the season for collaboration, so join Starhaven Rounders tonight at The Brick. The classic country collective is teaming up with The Grisly Hand's Lauren Krum and Prohibition-era jazz men Grand Marquis for a special dinner show, from 7 to 9 p.m. You might as well stick around till 10 p.m. for the late show, with full sets from Grand Marquis and American Slim.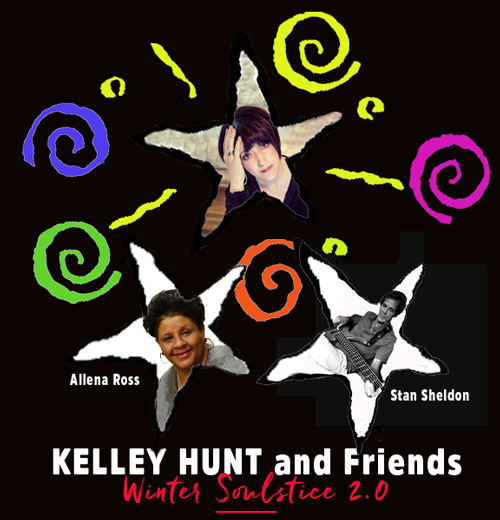 While we're on the subject of collaboration, Kelley Hunt is joining gospel singer Allena Ross and bassist Stanley Sheldon — who has performed/recorded with Peter Frampton, Warren Zevon and Delbert McClinton — tonight at Unity Church of Overland Park for her second Winter Soulstice program. Proceeds benefit music programs at the church, and tickets are available.
If you're craving something a little headier, get over to recordBar a little later this evening, for a packed bill that skews toward the psychedelic and ambient. Fullbloods, Mysterious Clouds, Jim Button & the Beholders and Akkilles will perform. Tickets are available.
Whether you're catching a ride on the holiday express train or just enjoying a hot chocolate among the festive decor, nothing says Christmas in Kansas City quite like a visit to Union Station. Tomorrow afternoon at 1 p.m., you can be treated to a double shot of holiday cheer with a performance from The Snow Globes in the Grand Plaza. The holiday trio will play some of your favorites, along with original material.
Growing up with a large musical family that sang together at church and home, singing became Havilah Bruder's focus at a young age. Her incredible range and commanding vocal presence has made her an asset to Kansas City's gospel, rock, folk, blues and jazz scenes. She's teamed up with guitarist Rod Fleeman, bassist James Albright and clarinet player John Blegen to form Havilah and Triple Play, a stirring swing jazz collective. They're releasing "Come Rain or Shine" at an early-ish show tomorrow night at The Black Dolphin. Preview one of the album's original tracks, "Such Love," written by Bruders for her children. Looking for a dancey date night? The Ship often boasts DJs with extensive catalogs from two-steppin' classic country to get-down funk and soul, or live music from experimental jazz acts. Tomorrow night the West Bottoms bar is hosting a couple of shoegaze bands from either side of the state line. Lawrence, Kansas, trio Sona returns to KC with the swoon-worthy tones of hometown quartet Emmaline Twist. Prepare to be draped in a warm blanket of sonic textures. While most bands are winding down for the winter, Hi-Lux is ramping things up. Within the last few weeks, the group has opened for blues powerhouse Danielle Nicole Band, Irish rockers The Elders, and recently put on a searing two-song performance at Making Movies' "I Am Another You" experience. Last week, the group dropped a funk/soul/dub-influenced seven-inch record on Sunflower Soul Records, and this weekend will boogie down at Holy Cow for a Super Sunday Dance Party, which kicks off at 3 p.m.
If you're anything like me and love Christmas but kind of hate traditional Christmas music, Merry Bassmas might be your cup of tea. A few of KC's low-end authorities will be coming together at The Black Dolphin on Sunday to perform Christmas classics on double bass and electric bass. Join pro players like Johnny Hamil, Gerald Spaits and Rich Burgess, who will be leading bassists through group performances of various levels and styles. Visit KC Bass Workshop's website for more info.
For about eight years, a number of KC and Lawrence-based folk acts would gather at the Liberty Hall for an annual holiday hoedown. "Kids would pile up on the edge of the stage, and we'd play hillbilly versions of favorite (and sometimes obscure) holidays songs. It was just darn sweet, good clean fun," said Betse Ellis, whose former band The Wilders co-founded the event with The Midday Ramblers. On Sunday, the Holiday Hoedown returns on a slightly smaller scale with The Midday Ramblers, MAW and Betse & Clarke, at Frank's North Star Tavern in Lawrence.
A Kansas City native who has been spending much of his time in Paris as of late, Hermon Mehari is a world-class, renowned trumpet player. Earlier this year, he released "Bleu," drawing on his mastery of jazz and the creativity of his contemporary influences; it debuted at No. 1 on the iTunes jazz charts. On Sunday, he's bringing his quintet to the Polsky Theatre at Johnson County Community College for an evening of cutting-edge music. Tickets are available. —Michelle Bacon
Related articles