909 News
Weekend Roundup: Delightfully Spooky
Above image: Above image: Wick and the Tricks release their debut seven-inch record, "Not Enough," on Saturday night at Davey's Uptown. | Photo submitted by Black Site Records
Lotuspool Records commemorates its 25th anniversary with a big party in Lawrence, Kansas, at the Replay Lounge tonight and Saturday. Look forward to performances from Champaign, Illinois, group Poster Children, who also recently celebrated 25 years of its album, "Daisy Chain Reaction" — as well as Chicago's Bully Pulpit, KC group Suneaters, and many more (including me!).
If you're looking for a delightfully spooky way to spend Friday the 13th, head north to The Rino for an evening of music with Shadow Rabbits, Pageant Boys and What A Wreck tonight. Before you go, watch our premiere of Shadow Rabbits' new music video; we also premiered Pageant Boys' video a couple weeks ago.
For a sampling of modern jazz meshed with the sounds of Spain and Portugal, reserve a seat at Musical Theater Heritage in Crown Center tonight. Ensemble Ibérica has teamed up with saxophonist and composer Matt Otto to release "Iberica," a new recording that brings lush textures and traditions to a chamber music ensemble. They'll have copies of the new album on CD. Tickets for the show are available.
We've mentioned Lawrence music vets The Ants a few times over the past couple of weeks. Tonight, the experimental indie/alt-country group is releasing its latest album, "Golden Submarine," to the masses at the Gaslight Gardens. If you can't make it out to Lawrence, The Ants will be back at Holy Cow in KC on Sunday, Nov. 12.
If you like a ferocious, visceral live music experience, envelop yourself in the sounds of Lincoln, Nebraska's Universe Contest this evening. The group kicks off a two-week tour at the recordBar tonight, sandwiched comfortably between two prestigious KC acts — The Philistines and The Brannock Device. Aftershock is the place for KC's heaviest acts. Tonight, the venue hosts an ambitious eight-band bill, including Into Existence, who will release its debut album. The event will also include a costume contest and a toy drive for Hands To Hearts, a local organization that provides toys to disadvantaged children for the holidays.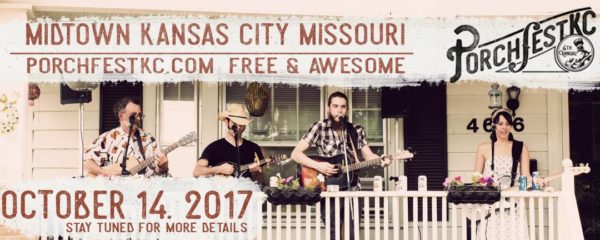 Spend your Saturday strolling the Valentine, Roanoke and Volker neighborhoods at the fourth annual PorchFestKC. The sprawling music festival features around 160 performers from noon to 6 p.m., with food trucks in the vicinity. Read more about it here on The Bridge and listen to a handful of the acts on Eight One Sixty.
If you hung out in the Midwestern punk and hardcore scene of the '80s and early '90s, you probably remember the Outhouse. A gutted cinderblock building in the middle of a corn field, it hosted some of the most raucous parties in Lawrence — Henry Rollins, Fugazi and Gwar were among the acts that hit the stage in its heyday. Liberty Hall is screening a documentary on the venue tomorrow night, with an after party at The Bottleneck.
On Saturday, you can fight hunger while watching a handful of bands at CrossroadsKC. The third annual Fed Up Fest will feature two stages of live music, with national acts like The Strumbellas and KC favorites like Me Like Bees. Proceeds from the event benefit KC's largest community food network, Harvesters. Tickets are available. Listen to our #givebackfriday with Harvesters. Earlier this year, David George announced that he would release a series of three EPs in 2017; the first of these came out in April. "Here I Go Again" was a stripped-down, five-track album that spoke to his sensibilities as a singer-songwriter. Tomorrow night at The Brick, George is releasing "Won't Let Go," and has assembled a full band (with Erik Voeks and Pat Tomek) for the show.
With members from The Get Up Kids, The Anniversary and The Gadjits, Radar State is one of the area's newest, most hypeworthy bands. They played Riot Fest in Chicago last month, and will release a seven-inch record on Saturday at miniBar, then hit the road with Say Anything in December. Hipshot Killer will open the show at miniBar. While you're amassing your record collection, drop by Davey's Uptown tomorrow to grab another. This time, Wick and the Tricks release their debut seven-inch record, "Not Enough" — four tracks of boisterous, brazen punk rock via local label Black Site Records. For the party, they'll be joined by The Midnight Devils from Omaha, Nebraska, and two of KC's rowdiest rockers, Red Kate and The Quivers. —Michelle Bacon
Related articles