909 News
Weekend Roundup: Show Your Love
Above image: Above image: Katy Guillen & the Girls return to the Knuckleheads stage this Saturday. | Photo: Brian Turner
A hip-hop entertainer, actress, dancer, poet and amateur filmmaker, Ogechi is returning to a hometown stage tonight at the Uptown Arts Bar. The 20-year-old artist, a student at Georgia State University, has earned acclaim for her work — including being named Atlanta's Youth Poet Laureate 2017-18 and finding her way onto notable Spotify playlists for her single "Blvck + Womvn." She'll also be joined by the talents of Khrystal. and Joy B. Check out her recent interview with our friend Aaron Rhodes, at Shuttlecock Music Magazine, above.
Show your love for all things local with a new concert series on Woodyard Bar-B-Que's patio, in Merriam, Kansas. Curated by Johnny Hamil and Woodyard owner Theresa Scott, the Show Your Love KCmusic series highlights a different local act each Friday and Saturday this month. Tonight, it's an evening with the experimental music of the GAV7D trio — which includes Hamil on bass, Jeff Freling on guitar and Kent Burnham on drums — performing songs from its "Cartoonoirjazz" album. Tomorrow night, it's Jerome — the project of trumpeter/keyboardist Nick Howell, who has also performed with Hi-Lux and The Good Foot.
The Abnorm has been performing around Kansas City for about a decade now, rising to become one of the area's most cogent emcees. "Ghetto Luxury," produced by bass virtuoso Dominique Sanders, is Abnorm's first release since "The Renaissance" EP in 2016. It drops tonight at the recordBar. Special guests include Stitch81Classic, Louiz Rip, Milli Mazen & WayyUpp, Big Blacc and Squibs. Tickets are available.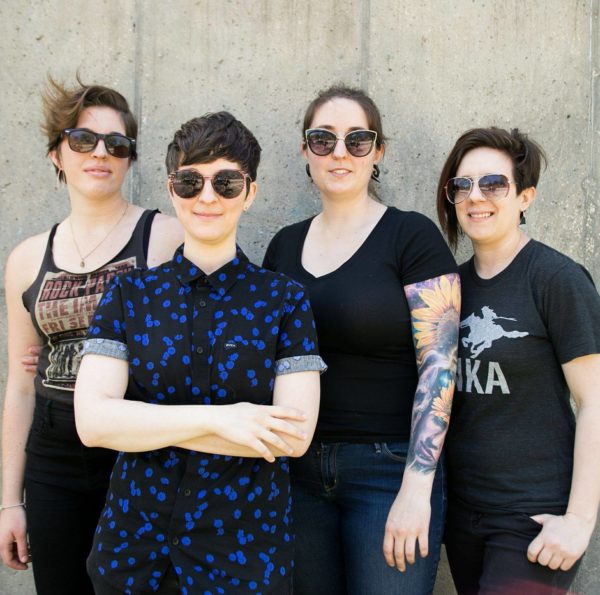 The Typing Pool | photo by Ada Brumback
Just on the other side of the state line tomorrow, the fourth annual Strawberry Hill Pub Crawl is happening. You can start as early as 11 a.m. and hit eight joints in the district — one of which is Breit's Stein & Deli, at the corner of Fifth Street and Elizabeth Avenue. At 3:30 p.m., Breit's will host the debut show from The Typing Pool. With members from various musical backgrounds, the band's sound is somewhere near the intersection of where '90s-influenced indie rock meets alt-folk — and we want to hear more.
If you're like me, you'll want to spend your summer nights on a patio with a chilled beverage and some punchy pop tunes. One of your Saturday night options should be in Lawrence, Kansas, on the rooftop of the Oread Hotel. Carswell & Hope releases its long-awaited EP, "Exit Plan," with support from LK Ultra — a queer indie rock band fronted by songwriter Lily Pryor. The show is all ages and starts at 7 p.m., so you'll have plenty of time to get to another one after.
A fan favorite in its hometown of Minneapolis, The 4onthefloor has opened for headliners from Willie Nelson to Trampled By Turtles. Back in November, the unapologetic rock 'n' rollers hosted a weekend of high-octane, sold-out shows in the Twin Cities, with support from KC's own Katy Guillen & the Girls. Tomorrow night, the Girls are returning the favor by bringing The 4onthefloor to Knuckleheads' outdoor stage. The Girls just got a fresh vinyl shipment of their latest album, "Remember What You Knew Before," and it's their first proper hometown show of 2018, so don't be surprised if this yields a sell-out as well. Tickets are available.
Speaking of high-octane, you might want to get the blood pumping a little more. It would behoove you to spend your Saturday evening over at the recordBar, where The Uncouth is throwing a party for its new seven-inch record, "Just A Matter of Time," via Teenage Heart Records. You can get a glimpse of the title track from our preview back in February, and grab tickets to the show, which includes support from Tulsa, Oklahoma, Oi punk band The Penny Mob.
We also previewed Mysterious Clouds' latest release, "My Head Is Going Round," a couple weeks ago. The group, formed by members of Monta At Odds, travels to Replay Lounge tomorrow night to mark the Lawrence release. It'll be a night of mind-expanding sounds, supplemented by CS Luxem and The Beholders (formerly Jim Button & the Beholders). —Michelle Bacon
Related article