909 News
Weekend Roundup: For the Masses
Above image: Above image: The Country Duo performs at Knuckleheads on Saturday night. | Photo: Carlo Pascolini
Kick off the weekend on the right foot tonight with a matinee show at the Replay Lounge in Lawrence, Kansas. You'll get a dose of edgy pop melodies from Carswell and Hope and a lustrous performance from La Guerre. La Guerre, the solo project of Katlyn Conroy, will be celebrating the release of "Discord: Recordings From the House of Leaves." Her first EP in three years, it's a moving four-song effort that showcases Conroy's radiant voice, towering above serene, sparing instrumentation. If you can't make it tonight, Conroy will be doing another EP release show at Sisters of Sound in Manhattan, Kansas tomorrow.
The Brick doesn't do First Friday shows very often, but when it does, you're gonna need some hearing protection. After you've wrapped up your First Friday plans, hoof it over to 17th and McGee streets to get an essential earful of snarling guitars and bellicose beats from The Architects and Hipshot Killer.
Your ears might need a little break after Friday night. Lost Cowgirl Records' Saturday Storytellers event is always a safe bet, with fine food and drink from Ollie's Local and a mix of untapped and veteran songwriters. On Saturday, the free event kicks off with Americana trio The Summer Storms and Chase the Horseman, whose debut single "RIPcord" made our best of 2017 list.
We haven't heard much from Sara Swenson since her 2014 album "Runway Lights," which documents her experience of living abroad and getting married. Fortunately, for those of us who were bewitched by her heartfelt stories and soundscapes, she'll be back on Saturday night at recordBar. Swenson performs a matinee show with her trio, which includes Calvin Arsenia and Sarah Magill. Jake Wells will open up the evening. Tickets are available.
For five years, Stand Up KC has been fighting for the rights of low-wage workers across Kansas City. Tomorrow night, three KC-based bands will take the Knuckleheads stage to mark this milestone. Singer-songwriter Kasey Rausch and guitar/baritone/pedal steel wizard Marco Pascolini will perform as The Country Duo, along with Fred Wickham and the Hadacol Caravan, and The Grisly Hand (and rumor has it, there might be a bonus appearance from Mayor Sly James!). Tickets are available.
If you're at all curious about what's happening in Lawrence's music scene, I Heart Local Music is an invaluable resource. Fally Afani and her team stay on the pulse of what's happening in town, and throw periodic showcases to highlight local talent. Tomorrow night, they're starting the first of the Free for the Masses series at the Bottleneck. It's a free, all-ages showcase that will feature performances from five KC and Lawrence acts — Vibralux, Drugs & Attics, Eems, Cuee and Oxford Remedy.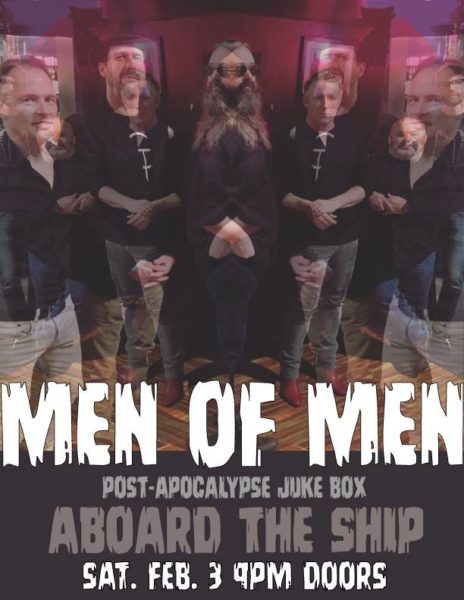 The men of Men of Men came together in 2012, when Steve Tulipana organized a group of prominent KC musicians to perform material from artists like Tom Waits, Swans and Bauhaus. They've since gotten together for a handful of shows, reimagining works from Nick Cave, David Bowie and more. These musicians, who run the gamut of KC's jazz and rock scenes, take the stage at The Ship on Saturday night.
Jeff Harshbarger, who also plays bass in Men of Men, is one of KC's most innovative musicians. On the first Sunday of each month, he puts on an alternative jazz series at the recordBar. This week, he and The People's Liberation Big Band — a group that sometimes includes up to 15 musicians — present an alternate choice to the big game this Sunday. –Michelle Bacon
Related articles