909 News
The Tom Petty Effect: KC Edition
Above image: Above image: Tom Petty performs with The Heartbreakers at the Arroyo Seco Music Festival on June 24, 2017, in Pasadena, California. | Photo: Chris Pizzello/Invision/AP
There's something euphoric in that jangly D chord that opens up the first 18 bars of "American Girl," and something liberating about the moments that follow. It calls to mind my ever-evolving concept of what it means to be an American, of what it actually means to achieve the American Dream — something "so close, and still so far out of reach." It is a song that brought me comfort as a lonesome, out-of-place teenager, who had a yearning desire to belong somewhere. I like to think that all of us have had moments like this — where we ache for comfort and validation, only to find that refuge in a song. And for many of us over the past four decades, Tom Petty's music provided that sort of sanctuary. Read below a few responses we compiled from Kansas City-based musicians and music lovers about his deep influence.
"The man has always been a drug for me. An inspiration, of course, but I'm more just addicted to his purity, realness and power to heal. I can't tell you how many times I've used Tom Petty to heal."
"I have 'The Last DJ' logo tattooed on my forearm, if that is any indication of my love for Tom Petty. It's very hard to sum up what he means to me and how he continues to influence me in just a few sentences. Instead, I think about the time I was at a wedding with University of Kansas basketball coach Bill Self and we talked about music. I asked him who his favorite bands were, and he named a few that I may or may not have been into. An awkward silence fell between us and I said, 'What about Tom Petty?' He suddenly said, 'You mean T.P. Of course I like T.P., Josh. Everyone loves T.P.' And that's the truth, whether you're a punk rocker or a college basketball coach. Tom Petty was for everyone. One of the last true pioneers of rock 'n' roll music, and he will be missed severely."
"This was a guy with so much talent, yet came off like a normal guy. His music is catchy and relatable. He was one of the guys who showed me that an artist can write and perform in different genres, especially rock and country, and how the two styles could gel and groove so beautifully. He always struck me as a bit of an underdog and seemed to write songs for souls similarly afflicted. The world has lost a treasure."
"[My sister] Samantha and I were raised on his music. The first time I ever jammed with my dad and uncles, it was 'Breakdown.' Tom Petty was so present in our house that, to me, it was just what music was. He was the ruler by which all other music was measured."
"I vividly remember moving to Seattle, and a live version of 'Breakdown' was getting tons of airplay, and then one day 'Damn The Torpedoes' was sitting on a friend's bed. The album cover sucked me in. Tom Petty's genius was in the way he constructed a tune from start to finish. He took these amazing words he put to music and hit you right over the head. Very rarely did a song of his detour from its point. From the feel and sound to the melodies he chose, everything had a reason."
"I often return to Petty to remind myself of the simplicity and economy in great songwriting and arranging. You know what always works? A couple of verses with four lines that rhyme, a couple of chords, a chorus that opens up and absolutely soars. Careful, don't put too many words in there. The sneakiest bridge — optional, guitar hook, 4/4 time, simple melodies. It's so easy. It's so hard. It's so dumb. It's so smart."
Chris Haghirian (The Bridge's Eight One Sixty):
"From 1999 to 2017, I was lucky to see Tom Petty perform live six times, most recently in June 2017 and it's easily one of the best shows I've been to this year. No matter how my music tastes changed over those two decades, he was a classic and was always in my listening rotation. He was a class act and an ultimate performer. In addition to that, he was a great storyteller. If you look at his lyrics, he could fit an entire story into one line. The first line of 'American Girl': 'She was an American girl, raised on promises,' The plot to that sentence is deeper than most Hollywood films these days. I'll never forget, back in the early '90s when I got my very first CD player, I rushed out and bought three albums: 'Achtung Baby,' 'The Steve Miller Band: Greatest Hits' and 'Tom Petty & the Heartbreakers: Greatest Hits.' Thank you for the music and the memories. Another great, gone too soon."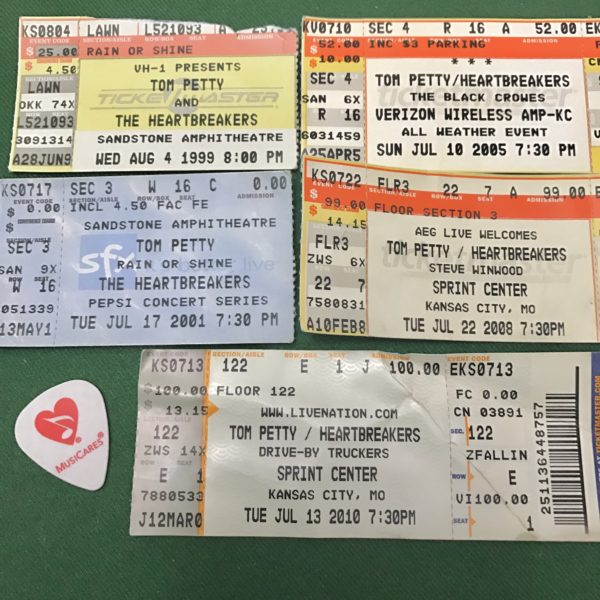 Chris Haghirian's ticket stubs from five of Tom Petty's appearances in Kansas City. He notes that Musicares named Petty the 2017 Person of the Year based on his significant creative accomplishments, his career-long interest in defending artists' rights, and the charitable work he undertook throughout his career, which notably focused on the homeless population in Los Angeles.
"Tom Petty was something of an anomaly. Simultaneously humble and grounded, yet obviously tapped into something so universal. He possessed a magic — and increasingly rare — ability to connect with people in the most primal, genuine ways but it wasn't force fed. Or pretentious. Or heady. It was saying so much with so little, so simply. The 'magic' wasn't esoteric. It came from the dirt, from the blood. He pulled it from somewhere, and it wasn't from a magic ball. But he had the humility to channel it. And it was real. He taught me that even a loser like myself can get lucky sometimes. That the waiting is the hardest part. And so much more. He taught me how to run down a dream. And so I did. And I always will. Thank you, Tom."
"When I think about Tom Petty, I'm reminded of the liner notes to a long-ago Little Feat album. Lowell George, who wrote them, praised one of his band members for 'doing what's right.' Then he praised the bass player for 'leaving out what ain't right.' That's how the songs of Tom Petty and the Heartbreakers always struck me — so many of them are spot-on, little moments of discovery, something you intrinsically knew all along but had never heard articulated before. Then played without an ounce of fat, every note necessary and beautifully articulated. When you consider they were able to make this run for 40 years, it seems nothing less than miraculous."
"I was a casual fan as a kid, but as I found my voice as a songwriter, I realized how much of an influence he was on me. Upon first listen, his songs often sounded simple and straightforward, but that was part of their masterful charm. He and The Heartbreakers, despite their tremendous musicianship, didn't need to be showy because Petty chose just the right words to get his point across, and he and the band chose just the right notes to carry those unforgettable stories to us. He didn't have the prettiest voice, just an honest one. His songs rang true and felt lived in, like the American towns he described. They seeped into your bones and stayed with you, much like how your hometown and its people remain with you long after you leave."
"I am sure I started with Tom Petty, like most people my age, on MTV. I fell in love with his American rock 'n' roll. His songwriting resonated with my life and drove me to look deeper into his music. I've always wanted to play the bass line to 'Honeybee,' and got my wish when the Guilty Birds added it to our set. Two winters ago, I was reconnecting to the guitar and 'All Right Baby' was the first song I learned. I purchased the songbook and would relax on the porch with my friends singing along to all his songs. Tom Petty is sunshine, fresh air, cold beer — rock 'n' roll." —Michelle Bacon writes for The Bridge and plays drums with Chris Meck and the Guilty Birds. Find her on Twitter or Instagram at @michelleobacon. Share your favorite Tom Petty stories and remembrances with us at @909thebridge.