909 News
Traffic, Tacos and Tunes: Take-Aways for SXSW 2017 from KC Perspectives
Above photo by Todd Zimmer: Shangri-La, the site of the MidCoast Takeover showcase
Every March, thousands of musicians, filmmakers, trendsetters and tastemakers make their way to Austin, Texas for South by Southwest. Entering its 31st year, the festival has launched the careers of musical acts like The White Stripes, John Mayer, Grimes and Hanson, social media giants like Twitter, and Fred Armisen's comedy career.
While SXSW has grown to one of the world's largest music events, with an attendance of 30,000 in 2016 — and that's just on the official side — in bars, churches, porches and backyards, free and unaffiliated showcases attract thousands of others to the state capital. While it becomes harder for artists to become breakout successes, it's also easier to stumble upon something special just by taking a few extra steps.
Whether you're heading to Austin to perform, work, hear the hottest bands or eat the tastiest tacos, here are some perspectives from a few experienced performers, crew members and music fans.
[caption id="attachment_53876" align="alignright" width="600"]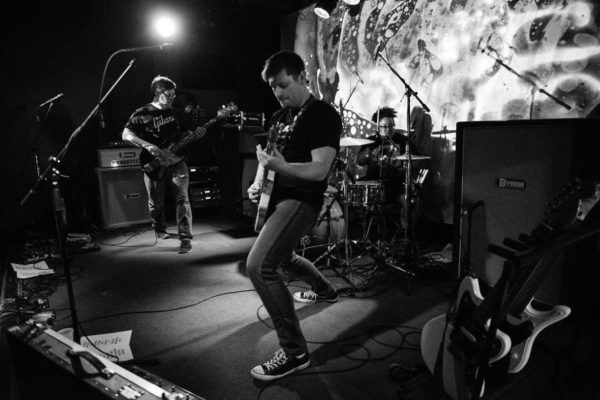 The Many Colored Death from Columbia, Missouri, plays five unofficial showcases in Austin next week.[/caption]
Experience:
2017 will be our third year in a row to attend SXSW as performers. Our first year, we came with a group of artists on the Home Tone label. I'm from the Dallas-Fort Worth area, so we wanted to make a mini-tour out of it — we played Dallas, Fort Worth and San Antonio, and three showcases in Austin.
What's stressful?
We weren't fully prepared for the traffic and parking — it is terrible. There's just no way around it. We were able to find a centrally-located 24-hour lot, so we could leave the car and trailer parked, grab it for load-in and take it back as often as needed. This year, we found that — for mostly 30-minute sets — we can consolidate and take smaller rigs, and fit the three of us and all our gear in our van.
But really, it's all about the food, isn't it?
Honestly, I'd go just for the food trucks; they are truly amazing — the Thai truck behind the Liberty, the taco truck behind Hole in the Wall, and a parking lot on 7th Street packed with trucks. There's a Cajun truck on the sidewalk that has jambalaya on a stick; it's life-changing. We're a food band, for sure. Some bands booze, some do drugs; we eat.
What's your plan for this year?
I think the thing we're looking forward to most this year is MidCoast Takeover. It really was important for us to be a part of that, to feel the connection with other Midwest bands. We've never played this many shows in this small an amount of time, so it should be a fun challenge.
[caption id="attachment_53877" align="alignright" width="600"]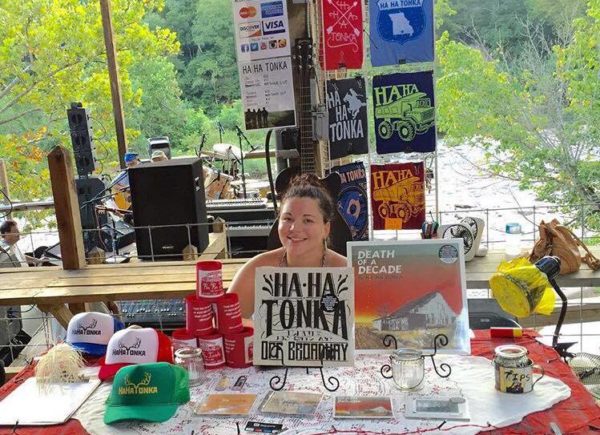 Liz Allred travels with Ha Ha Tonka on its Heart-Shaped Mountain tour, which reaches SXSW next Wednesday. The band plays three showcases, including an official one presented by its label, Bloodshot Records.[/caption]
Liz Allred: touring crew, Ha Ha Tonka
Experience: 
As a music enthusiast and touring crew member, I've been to SXSW more times than I care to count. This year, I'm traveling down by way of roots rockers, Ha Ha Tonka, as their personal Lone Star retriever. (Liz also works on touring crew with
Katy Guillen & the Girls
.)
How do you manage it all?
With Tonka, the attitude is that of spring break for the band. Even in the rare tough moments when we're uncomfortably weaving through mega crowds with our massive amounts of gear, we laugh at the absurdity of the whole thing. It's easy to keep morale up with nine tour mates.
How do you cap off the week?
I always finish up the week with Chicken Shit Bingo on Sunday night at Ginny's. It's a bit out of the way from all the action, but after five or six nonstop days of hearty rock and roll, it's kind of nice to be out of the heart of the city.
Hosted weekly by the infamous Dale Watson, folks gather 'round as Ginny herself sells raffle tickets, with corresponding numbers painted at the bottom of a wire chicken cage, where two chickens are placed after all the tickets have sold. First number to catch droppings is the winner, and takes home all the raffle ticket cash. The whole shindig only takes about 15 minutes, and there are a few rounds throughout the evening, all while Dale plays from the stage inside the bar, and patrons play games like darts or cornhole in the parking lot. It's a pretty solid way to get a few more tasteless Lone Stars in before rolling out of Texas and into the next city on the tour.
[caption id="attachment_53878" align="alignright" width="600"]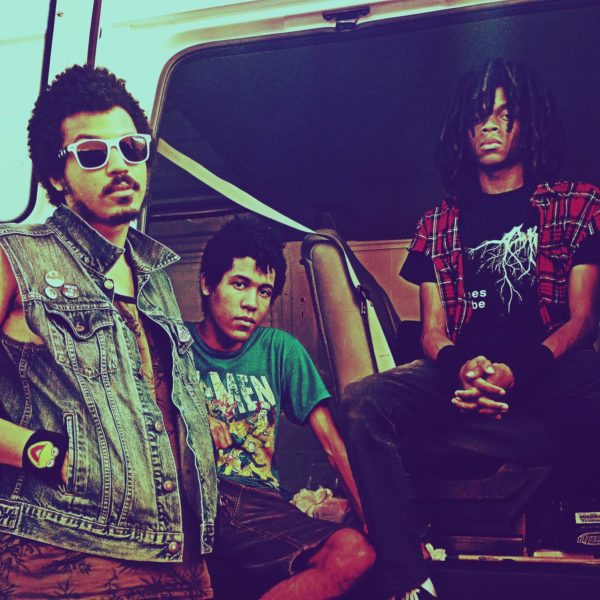 Radkey plays an official SXSW showcase on its label, Another Century, and the popular unofficial showcase, Rachael Ray's Feedback Party at Stubb's.[/caption]
Matt Radke: band manager (and father), Radkey
Experience:
This will be our third time at SXSW. We haven't played it since 2014, so we're excited to play again.
Where's the band this year?
This time, we're playing the
Another Century showcase
(official), and
Rachael Ray's Feedback party
at Stubb's.
What do you enjoy about the experience?
We have family down there so it's pretty comfortable, and that also means a free place to stay. We also have friends that live in Austin as well, plus bands we've toured with and met over the last few years will be in town. It'll be really rad to see them. Overall we look forward to the shows, friends, family and food.
[caption id="attachment_53879" align="alignright" width="600"]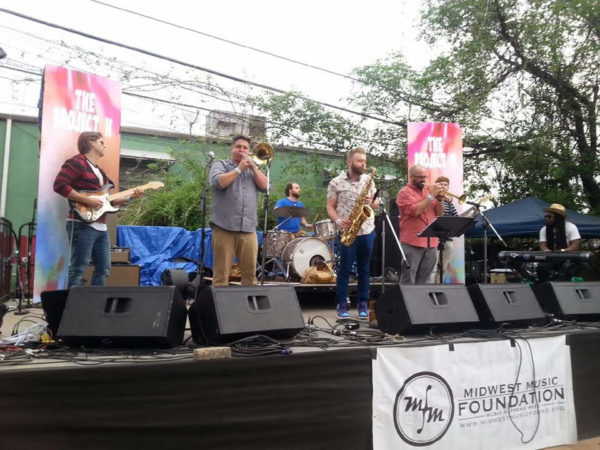 The Project H at MidCoast Takeover, 2016. The KC-based group returns to MidCoast Takeover and Nextbop's Jazz for the Masses for the second year in a row.[/caption]
Ryan Heinlein: composer and trombonist, The Project H
Experience:
Last year was our first year attending, and it
was really about just experiencing Austin and getting out of town for a few days. We learned about traffic, parking, food — and the camaraderie among the MidCoast performers, volunteers and fans.
Why do you go?
It's really nice to go on a road trip with the band, especially now. We don't play as frequently as we did a couple years ago — we've played one gig since the streetcar opening last May — so this gives us a chance to reconnect and work on some new material. It's great to play with and hear bands we don't normally get paired with.
What's stressful?
It's a bit of a grind traveling there. Last year, we played at noon on Wednesday, which meant we left at 10 p.m. Tuesday night. We played in Wichita Saturday at 7 p.m., which meant we left Austin at 7 a.m.
What's your plan for this year?
We're playing Jazz for the Masses (hosted by Nextbop) on Wednesday. I requested a later time so we didn't have to drive all night again, so we play the set right before Christian Scott; he's probably my favorite trumpet player over the last five years. We're also playing MidCoast Takeover on Friday night. It'll be nice to have a day off in between to hang or go to other shows.
[caption id="attachment_53880" align="alignright" width="600"]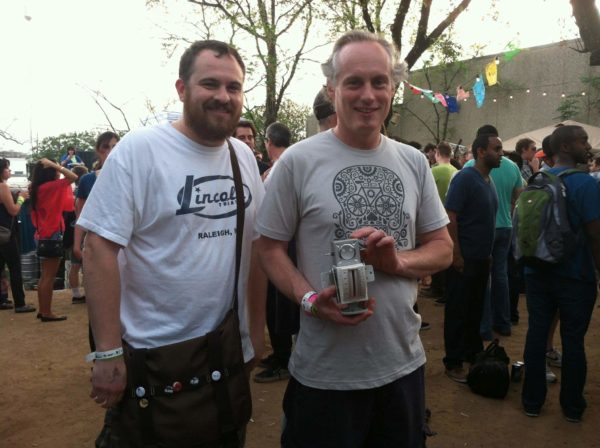 2017 will be Sherman Breneman's (right) eighth year attending SXSW. He typically sees over 100 bands in six days, mostly for free.[/caption]
Sherman Breneman: record store manager, Vinyl Underground at 7th Heaven and music enthusiast
Experience:
This will be my eighth straight year. I've never bought a badge or a wristband. I average seeing 100+ bands in six days — most for free. My budget, including travel, lodging and food is $300; $50 is for cover charges. I have rarely used all of that money. I mostly stay on the outskirts and focus on unofficial showcases.
Why do you go?
I love live music; there's nowhere else you can see as many bands perform in one week. Secondly, as part of my job, I need to turn people onto new music and new artists. At SXSW, I can accomplish both.
What's stressful?
Expect long lines, lots of standing and waiting, lack of water, miles of walking everyday, no parking, no sleeping. By the end of the week, your patience is shot, you can barely walk, and a band that normally would blow you away may barely register.
What's rewarding?
It's wonderful to be among so many like-minded people who love music just as much as you do. It is encouraging to see so many musicians hungry to just be heard, to fulfill their dreams.
A discovery story:
In 2010 I was waiting for the Bloodshot Records day party to start. Valerie June walked in with her tiny banjo and asked if she could play to the few folks waiting before the first band started. The nice folks at Bloodshot agreed. By her second song, the guy serving beer out back wandered in to hear what was going on. Everybody starts somewhere, and at SXSW, you get to see many beginnings.
A few tips:
Avoid the free booze. Seeing lots of music that you can remember should be why you are there; well, that and free tacos.
Be flexible. Can't get into the show you planned on? No problem, go next door and hear a band you have never heard of.
Pick a showcase with several bands you want to see. Go there early, get in and stay there. See the rest of the bands on the bill. The less walking you have to do bouncing around between venues, the longer you will last and the more music you will see and discover.
[caption id="attachment_53882" align="alignright" width="400"]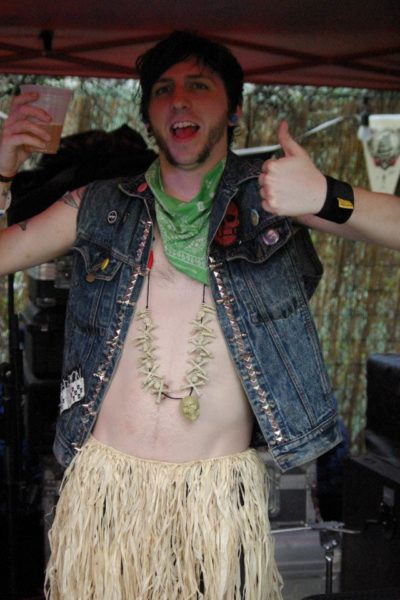 At the helm of the video screens, Steve Gardels keeps the four-day MidCoast Takeover showcase looking as professional as it sounds.[/caption]
Steve Gardels: video crew chief, MidCoast Takeover
Experience:
For seven of the past nine years, I've attended as a performer, but all nine years I've served as a member of the video team for several showcases. This year will be my eighth helping
Midwest Music Foundation
throw one of the best parties of the week.
What's your role in making the showcase a success?
One thing MidCoast does that no one else seems to do is to clearly display the names of the performances during their performances.
Not only does this make the show look pro, but the performers really love it. There are thousands of bands playing every place they can every day, and keeping track of who and what you loved can be hard. When they show up, dig the set and grab a photo for the 'gram, the band's name is in the picture. Then they find the band online, grab the record and keep coming back to our stage to see more.
What's stressful?
I'm working with hundreds of thousands of dollars of rented equipment that tends to be a little fragile. If things don't work, there are only a handful of places in Austin that have what I need and if something breaks, I have to hope I have phone service to get a hold of someone back in KC.
What's rewarding?
This year's lineup this year is more diverse genre-wise; it'll be great to see how the crowd reacts to the dynamic shifts between all of our performers. The best part of my job is watching the bands shine, watching people love the music that we've got here. Seeing the entire show from front to back work as a unit to be one of the best showcases in Austin — that's magic.
How do you manage the logistics?
Gear lists, advance planning and elbow grease. It's months of planning in advance, then a lot of content generation once we know what we're doing. It's nuts, but somehow, it always works. Until last year, I've always left Austin with a feeling of "I can't believe we pulled this off," and last year I felt like we got it down. Always bigger, always better. I'm excited to get down there and get to work.
— Michelle Bacon is a musician and writer dedicated to the Kansas City music community. She advocates for and helps spotlight music in the area, writes web content for 90.9 The Bridge, plays drums with Chris Meck & the Guilty Birds, and bass for about anyone who asks. This will be her first time in six years not attending SXSW, and she hopes you will bring back some kolaches for her.