909 News
Flipping the Lid
Above image: Ryan Lee of the Matt Villinger Trio drumming at the Spine Showcase debut on Jan. 24. | Photo: Mason Kilpatrick
Local event series spotlighting overlooked talents in the KC jazz scene
Kansas City may be synonymous with jazz, but when it comes to those more eccentric compositions — the intricate and the avant-garde — a lot of music falls through the cracks. Fortunately the Spine Showcase, held every fourth Thursday at the Capsule event space on 1664 Broadway Blvd., is picking up the slack.
The event series, spearheaded by Kelley Gant — a Kansas City-based vocalist with 10 years of professional performance experience and a lifelong passion for big band, jazz and swing — features two live ensembles playing music that's either "too intricate and quiet and careful" or "too loud and too daring" for the city's jazz clubs.

"So far it's been music that somebody wanted to play for a long time but hasn't had the opportunity," Gant said in an interview over the phone. As an artist herself, she understands the necessity of the Spine Showcase. Her current musical practice uses a Boss RC 505 loop station and effects pedals to create improvisational compositions with an accompanying bass guitarist. But, having performed in clubs from Chicago to San Cristobal, Mexico, she's no stranger to the restrictions of the mainstream jazz establishment.
"In the clubs you're expected to play safer, more popular choices," Gant said.
While in many cities, patronage models exist to highlight the more experimental material, Gant explained, "Kansas City's model has always been: the music is supported by the patrons buying food and drink."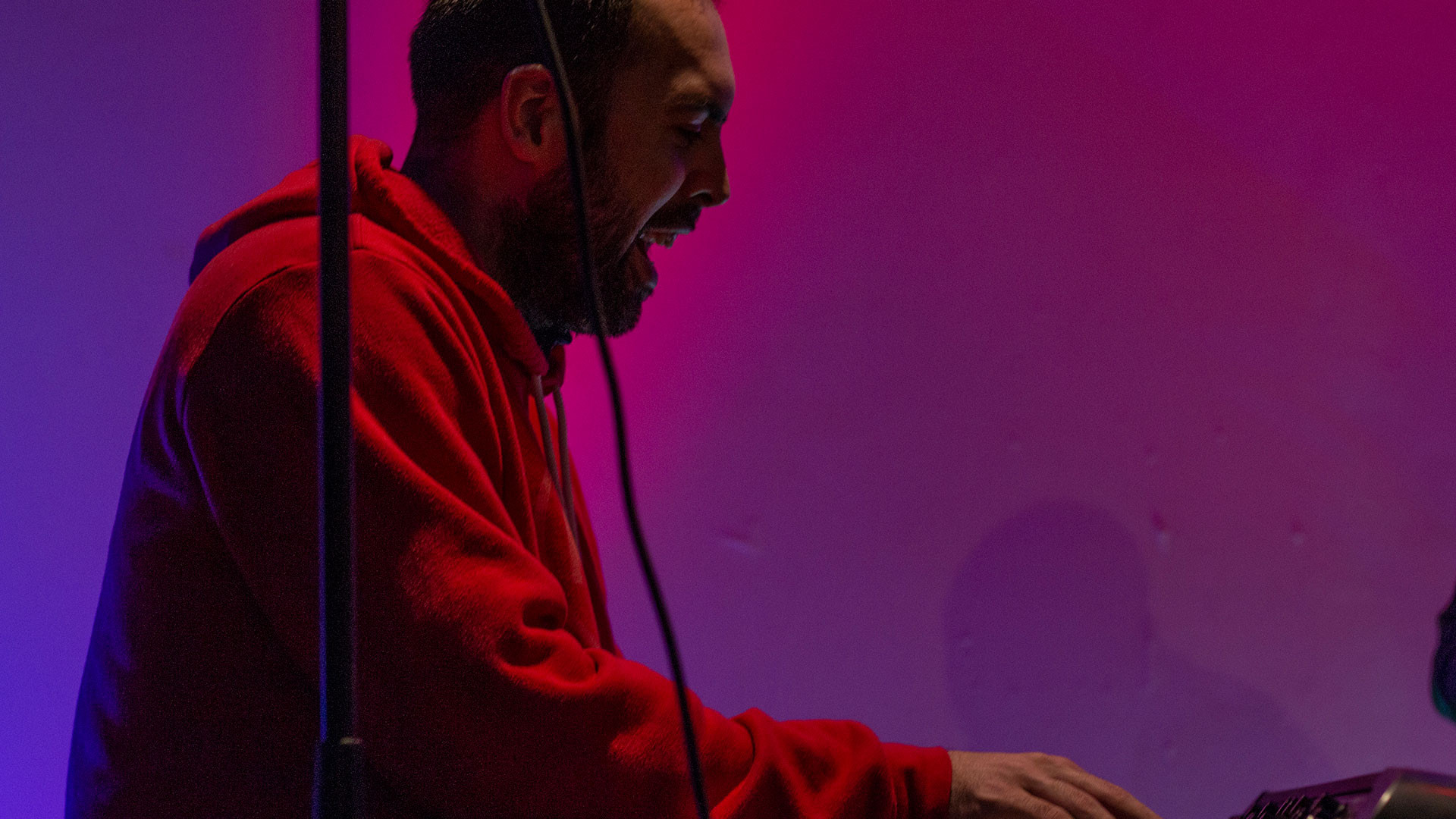 KC pianist Matt Villinger performing original music with his trio at the first Spine Showcase of 2019. | Photo: Mason Kilpatrick
Inevitably, that model leaves something to be desired— hence why Gant proposed the Spine Showcase to the Charlotte Street Foundation in its 2018 Capsule Open Call. The foundation opened the space in August of last year "as a platform to highlight emerging, contemporary, experimental and hybrid performance practice." Gant's was among the accepted applications.
But aside from empowering artists to play material that doesn't fly elsewhere, Gant also wants to pay them for their time.
"I want musicians to be paid more than they're getting paid in the clubs right now." According to Gant, the club rates have hovered around $25 an hour since the '90s. It was important to her that the Spine artists get paid $150 minimum.
While Charlotte Street does provide a monthly stipend for the event, "it's not enough to pay even two musicians," according to Gant. As an answer, Gant is applying for grants and signing up with a 501(c)(3) umbrella to take charitable contributions. She's also launching a crowdfunding campaign in the next two weeks.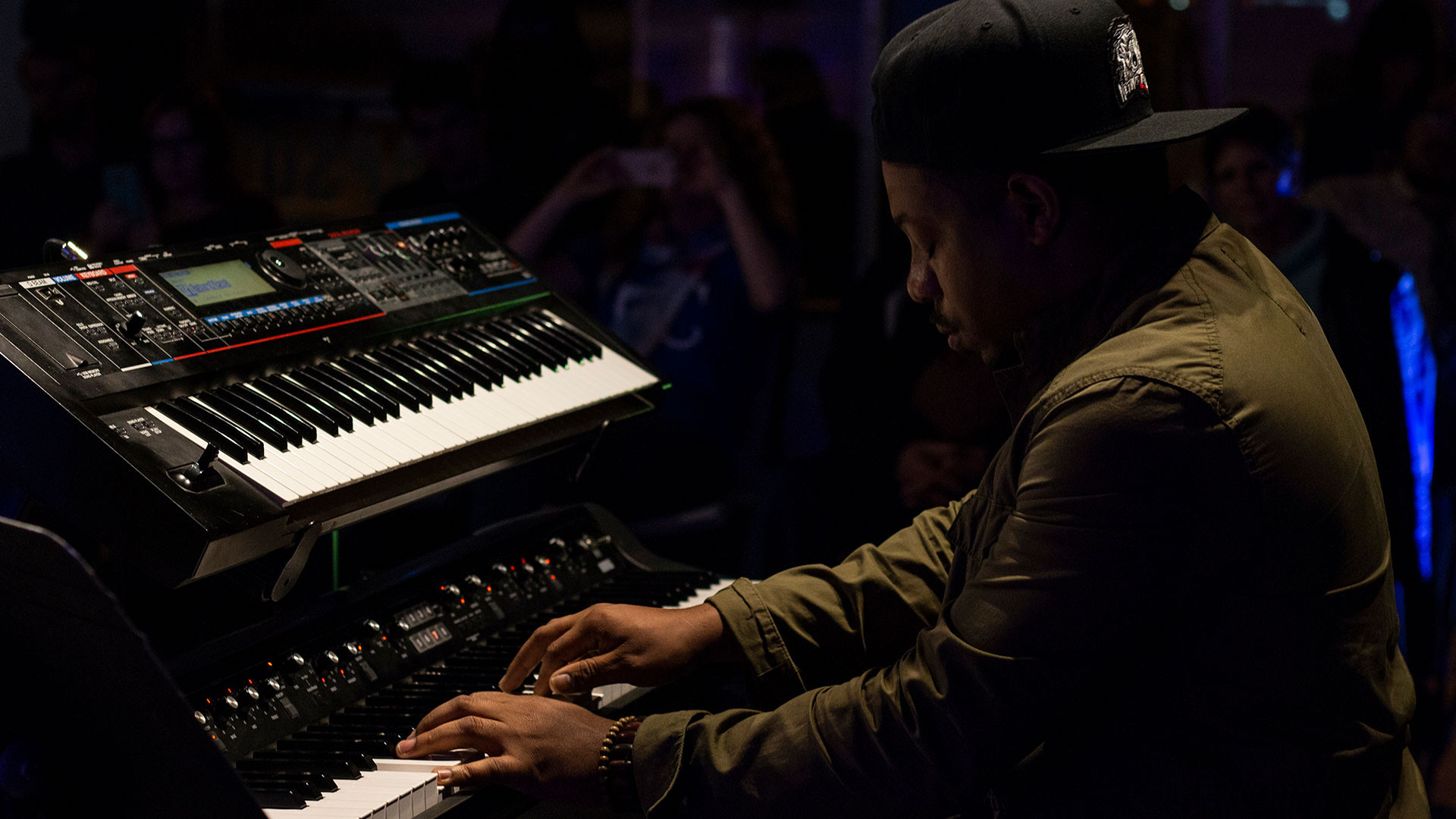 KC pianist Eddie Moore's performance in March combined live improvisation with sampling and visual technology. | Photo: Mason Kilpatrick
Going forward, she hopes the showcase will help highlight the many distinctions in the Kansas City jazz scene. "There's a difference," she said, "between going to a club and talking through the music, and going to a theater to listen."
For those in search of a more immersive listening experience, the Spine Showcase returns on Thursday, April 25, with the Natalie Bates Quartet — a Kansas City-based "lady jazz" foursome playing classic jazz-era sounds mixed with contemporary compositions. The second ensemble will feature Gant and a number of other Spine performers using effect pedals, analog and digital hardware, and unexpected instrumentation to create fascinating new sounds in a completely improvised set of music. Doors open at 7:30 p.m., and the performance begins at 8 p.m.. Donations are suggested.
—Zoey Shopmaker is a novelist, music and culture journalist, DJ, producer, rapper and co-founder of the UN/TUCK Queer/Trans Music Collective based in Kansas City. Find her on Instagram @sister_zo for silly memes, unwarranted astrological advice and information on upcoming events.

Related articles