909 News
Attentive Audiences Only: Sofar Sounds Elevates the Experience
Above image: Ivy performs at a Sofar Sounds Kansas City event in May, at MADE Urban Apparel. | All photos by Anna Selle Photography
From the cackling chatterbox to the belligerent beer spiller, nothing can spoil a good show like a distracted audience. "The artist puts so much work into promoting shows that they shouldn't also have to put work into hoping somebody pays attention to them when they show up to play," said Hank Wiedel, founder of Sofar Sounds Kansas City. This was the very idea that prompted three Londoners to launch Sofar Sounds in 2009. Rafe Offer, Rocky Start and Dave Alexander were disheartened by the lack of attention and respect given to performers in traditional settings, so they invited musician friends — along with a carefully selected audience of music lovers — to play an intimate show at a small flat. Since that first London show, Sofar Sounds has expanded into a global community, with 357 cities that host secret, intimate concerts in unique spaces.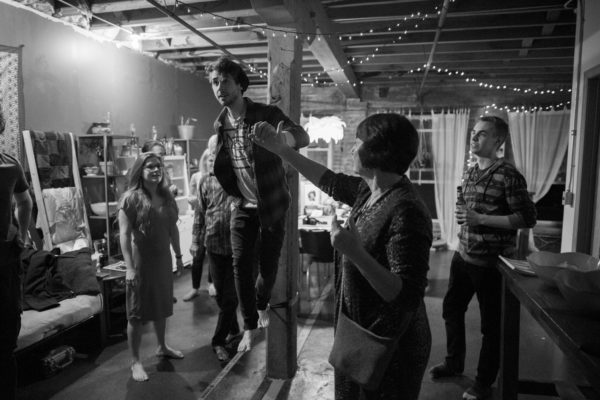 Audience members take a break on the slackline at musician Jessica Paige's (left) loft between sets.
Wiedel learned about Sofar Sounds after performing one of its shows with his former band last October. "We ended up playing in an old Anheuser-Busch firehouse in St. Louis," he said. "I was completely enamored by the concept, and discovered that a lot of people were looking for this to come to KC." A month later, Sofar KC held its first concert. Every element of a Sofar show is cultivated with the audience and performer in mind. Each concert is limited to a small number of attendees, all of whom must apply online to get in. Those who are accepted receive an invite a week prior to the show; they're also allowed to bring a guest. The location is revealed on the day before the show, and the artist lineup on the day of. "It's a very solidified platform for artists to come into, and they're automatically given an appreciative audience," Wiedel said. Artists are also compensated with cash and a professional video of their performance.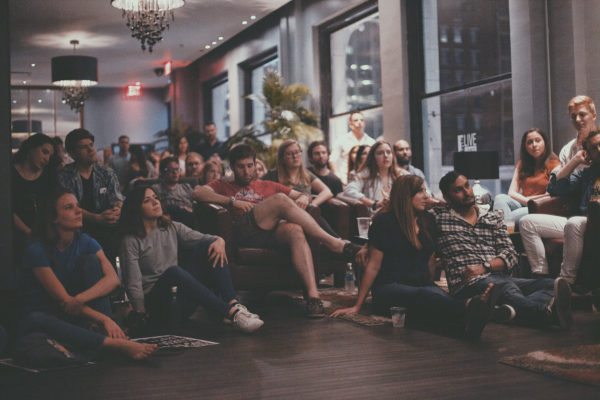 All Sofar Sounds audience members must apply online and receive an invite in order to attend one of the concerts.
Crystal Rose frequently turns heads with her striking vocal capabilities, but when she performed her Sofar KC show at the Ink Live Lounge in the Midland back in April, she noticed something different. "I had the audience's complete attention, and I felt as though the room rose and fell with each note," she said. "Sofar tells the audience what to expect from one of their shows. They're very clear and adamant about holding fast to the integrity of their vision."
Like other host cities, Wiedel and the KC team curate shows in eclectic spaces; past venues have included Hagoyah yoga studio, MADE Urban Apparel, Temple Sounds recording studio and musician Jessica Paige's loft. Attendees can pay what they want, and they're often provided with free drinks at the concerts. Sofar KC has also partnered with startups like Uber and Airbnb, to accommodate guests who are traveling or may have had a bit too much to drink. It's a blueprint that ensures artists will perform to a receptive crowd, and in turn, delivers a genuine experience to everyone involved. "Sofar is a company that invests in its people, and reiterates how important it is to take away the bad aspects of the traditional bar scene," Wiedel said. "Most importantly, it allows artists to feel a little bit more in control. They're the center of attention at all times."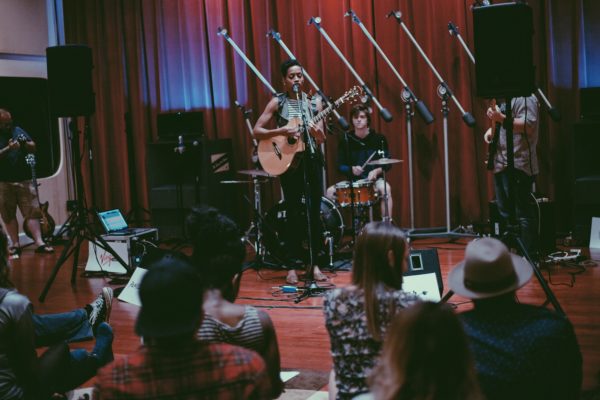 Payge Turner performs at Sound 81 Productions earlier this month.
The next Sofar Sounds Kansas City show is this Saturday, July 1, with another coming up on the 23rd. Visit this link to apply to attend, or to get informed about future events. — Michelle Bacon is a musician and writer dedicated to the Kansas City music community. She advocates for and helps spotlight music in the area, writes web content for 90.9 The Bridge and plays drums with Chris Meck & the Guilty Birds. Follow her on Twitter or Instagram at @michelleobacon.