909 News
The Rino Offers Live Music Across the Bridge
Above image: Above image of The Rino by Ben McBee of Middleman Creative
It's a fine time to be a live music fan in Kansas City. With newer rooms like The Truman, Knuckleheads Garage and The Madrid, KC now has the capacity to accommodate notable touring acts that wouldn't fill larger venues like Sprint Center or Uptown Theater. Even smaller yet, 300- to 450-person rooms like recordBar and The Riot Room often bring in emerging touring bands and notable hometown acts. Check out our flowchart of area music venues here. But what does that mean for lesser-known locals and touring acts without name recognition? To The Rino, it means an opportunity for small music venues to thrive. In July, co-owners Zach Henderson and Drew Cobb added the 150-capacity space to Colony, their brewery and coffee shop in North Kansas City's growing entertainment district (if you're keeping score, "Rino" stands for "River North"). "We've got all sorts of cool stuff north of the river, but a smaller music venue has never really been one of those things," said Ben Wendt, production manager at The Rino. Though it's not in KC proper, Wendt assures it's just a short bike ride from the River Market area across the Heart of America Bridge. "In 2017, it seems silly to let a body of water dictate where good live music is being played," he said. Unlike many of KC's modestly-sized music spaces, The Rino offers a variety of live entertainment most nights of the week and boasts a state-of-the-art sound system, not to mention the craft ales and coffee. With those elements, plus the fact that most of the shows are 18 and over, the venue is helping cultivate the younger side of the #kcmusic scene. It's already hosted budding talents like Payge Turner, Jake Wells and Mess, filling rooms with audiences that may not be old enough to catch their friends' other shows.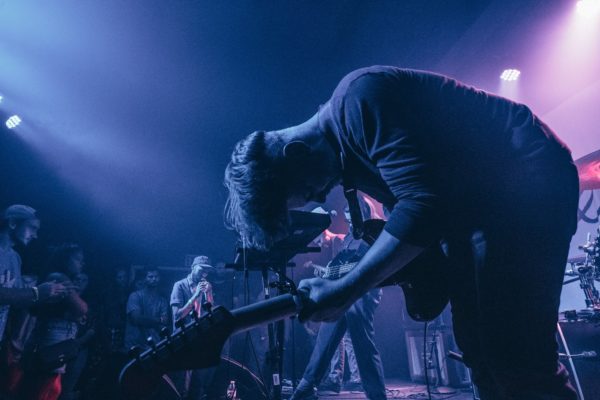 The album release party for Mess in August was The Rino's first sold-out show. | Photo: Katie Rich
And on Mondays, the venue hosts Song Lab, a free open mic night that has begun to attract local songwriters from a number of skill levels and genres. "Song Lab is a great place to make connections with other established musicians, workshop new tracks and get some stage experience, especially because it's not just musicians in the audience. We frequently have industry people hanging out and enjoying the evening," Wendt said. "It's already starting to feel like a microcosm of the entire music scene because of its earnest sense of community." You can catch an exhilarating weekend of music at The Rino. On Friday, The Hillary Watts Riot, Dynamite Defense and Solid Gold Easy will perform. Elton John Denver, a tribute to Elton John and John Denver, is Saturday. Visit therinokc.com for a complete list of upcoming events. —Michelle Bacon writes about #kcmusic for 90.9 The Bridge, and plays drums and bass in bands. Follow her on Twitter or Instagram at @michelleobacon.