909 News
Raise Your Intelligent [Sound] Quotient
For the past two years, Kansas City's growing electronic and hip-hop scenes have had a place not only to showcase and congregate, but also to collaborate and educate. Independent record label and music collective Intelligent Sound has provided an outlet for these artists with events like Beat Soup, coming up this Saturday at Niche (3611 Broadway, above Uptown Arts Bar).
"Before Intelligent Sound, there wasn't much of a communication or awareness between these styles of musicians and producers in the area," said Peter Anthony, who runs the collective. "We've slowly grown and bonded over 50 musicians from the KC/Lawrence area, and that has opened new doors for collaboration, live showcases and friendship."
Much of Intelligent Sound's success can be attributed to having a dedicated space at Niche for these monthly music showcases.
"It gives us a home base for experimentation. Because we mostly showcase live acts, it gives the artist a great tool to hear and feel their music, and see people's reactions," Anthony said. "It also serves as an amazing hub of creative people to network with. On any given night you may be sharing a drink with someone who may make completely different music, but you can relate and learn about new styles of music, new techniques and skills."
On Saturday, Niche will again serve as a hub for these artists. The Intelligent Sound family will bring together a number of resident DJs and producers, including Rick Maun (Osiris-1), Dan Matic, Zelus, Ben Swiller and West Peaks, with visual artist Adrian Halpern as a special guest and 18-year-old producer and songwriter Brooks Brown.
"Brooks has been an amazing and hard-working member of the electronic music scene; he's moving to California to start college, so this will be one of his last KC shows before that journey begins," Anthony said.
In addition to providing these showcases, Intelligent Sound is continually releasing albums and compilations — including an 11-track compilation on its second birthday — but Anthony emphasizes that the collective exists primarily to foster an often underserved musical category.
"When someone goes to see a live band, they grasp and understand what's happening between gear, player and voice," he said. "When people go out and see someone on a computer, they sometimes discredit it or don't fully grasp the creative time and energy that goes into a performance, and then dismiss it as just 'pressing play.' If people could understand the amount of time and skill it takes to create, organize and perform a piece of music they've written solely by themselves, I think they'd have a little more appreciation for the art form. But we'll still be here, even if they don't."
Beyond giving artists a chance to gather and learn from one another in a live setting or through a steady stream of new material, Intelligent Sound looks to further expand its reach. The team is in the process of building a mixing and mastering studio, six rentable studios for visual artists and an art gallery/event space in the West Bottoms district. Anthony hopes it will continue to encourage community growth.
"The biggest thing I've learned is to just take it day by day; don't have an expectation or some grand goal," he said. "Just have the mission to release thought-provoking and different music, and don't be afraid to go against the norm. Be weird."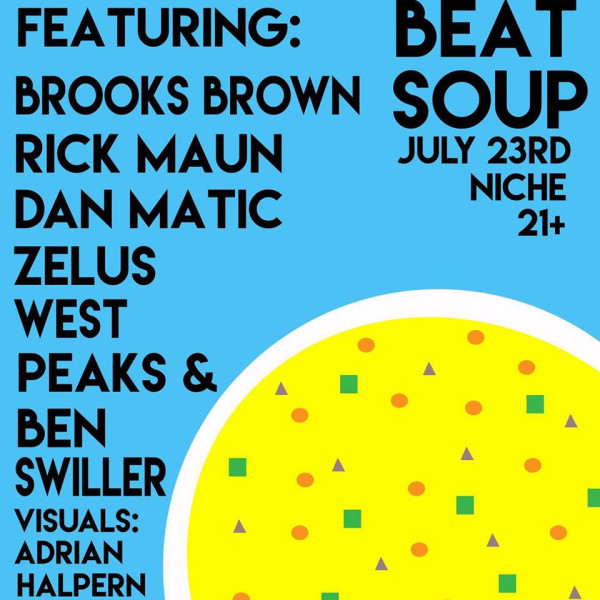 Beat Soup starts at 9 p.m. this Saturday, July 23, at Niche. Find more info here.
—Michelle Bacon is a musician and writer dedicated to the Kansas City music community. She advocates for and helps spotlight music in the area, writes web content for 90.9 The Bridge, and plays bass and drums in bands. Her grandma will always be the coolest person she knows.