Above image: Ray Muney performing at 825 Studios in Westport as an opening act for Kye Colors' "Milk Is Nasty" listening party in Sept. 2017. | all photos by Aaron Rhodes
To make it out of Kansas City's East Side, you've got to 'hoop or shoot a strap' — Ray Muney chooses to rap
Street rap has found itself in the middle of a new gold rush. While 50 Cent, Jeezy and a score of other rough-and-tumble rhymesmiths landed big hits in the aughts, it only became clear earlier in this decade how viable the music is commercially, and how important it is culturally.
Critics chuckled at the vast sea of [to be frank, innovative] one-liners on Chief Keef's 2012 debut and wrote off many talents from this latest generation of young, aggressive lyricists. But we're past that now. Future debuted at No. 1 on Billboard. Gucci Mane's voice graces iPad commercials. Every emerging artist is a viral hit and WorldStar music video away from major-label interest and a shot at a music career.
Enter Ray Muney. Born Raimon Gilliam, this 20-year-old rapper from Kansas City's East Side is among the city's best bets for becoming the next nationwide street rap star — and the first from Kansas City to achieve that status in years. Muney's dense, illustrative verses are virtually unmatched by any of his local peers, and that's only the first of his many qualities.
I met up with Muney late one frigid evening in the final days of 2018, after the cancellation of a show he was set to perform. A small group of friends had convened at his manager's apartment to play "NBA 2K." As we settled into the apartment's breakfast nook, away from the video game action in the living room, Muney explains that he started rapping when he was 8 or 9 years old. It began as friendly competition with a grade school friend and included vague dreams of one day "making it."
A'Sean is a fellow rapper and an old neighborhood friend who has known Muney since childhood. Upon gaining access to family member's audio equipment, A'Sean invited a 14-year-old Ray to record with him.
"He always knew how to rap," A'Sean said of that first session. "I don't know what it was. He didn't know how to make songs, but he always knew how to rap really good." A'Sean was an early believer and communicated to Muney that his ambitions weren't misguided.
Years passed and the two saw each other sporadically, but Muney's older cousin Lamon — known to friends as Booder — stepped in and began pushing him to take rapping more seriously. "He actually just wanted to hear [my music] in the car," Muney said. "And he wanted to see videos of it."
Early in 2017, after recording his first handful of tracks in a couple short weeks, Muney took Booder's advice and got to work. As often as he could, he would put together a new outfit and head off to shoot a new video. The first of those videos was for "Last Days Home," an original rap over the beat of Tee Grizzley's breakout hit, "First Day Out." While Muney spends three straight minutes detailing crack house exploits, paying tribute to his late uncle Tommy and painting himself as a cold-blooded enemy of the state, he and his friends aim handguns and rifles at the camera from the front steps of a boarded house."Last Days Home" may one day be considered a classic of modern Kansas City hip-hop, and it doesn't even have a chorus.
Aspects of Muney's style are reminiscent of the West Coast gangster rappers that Booder had shown him years before. Like The Jacka and Mozzy, Muney's songs paint a vivid picture with their lyrics, but do so without sacrificing an inch of the grit that inspired them.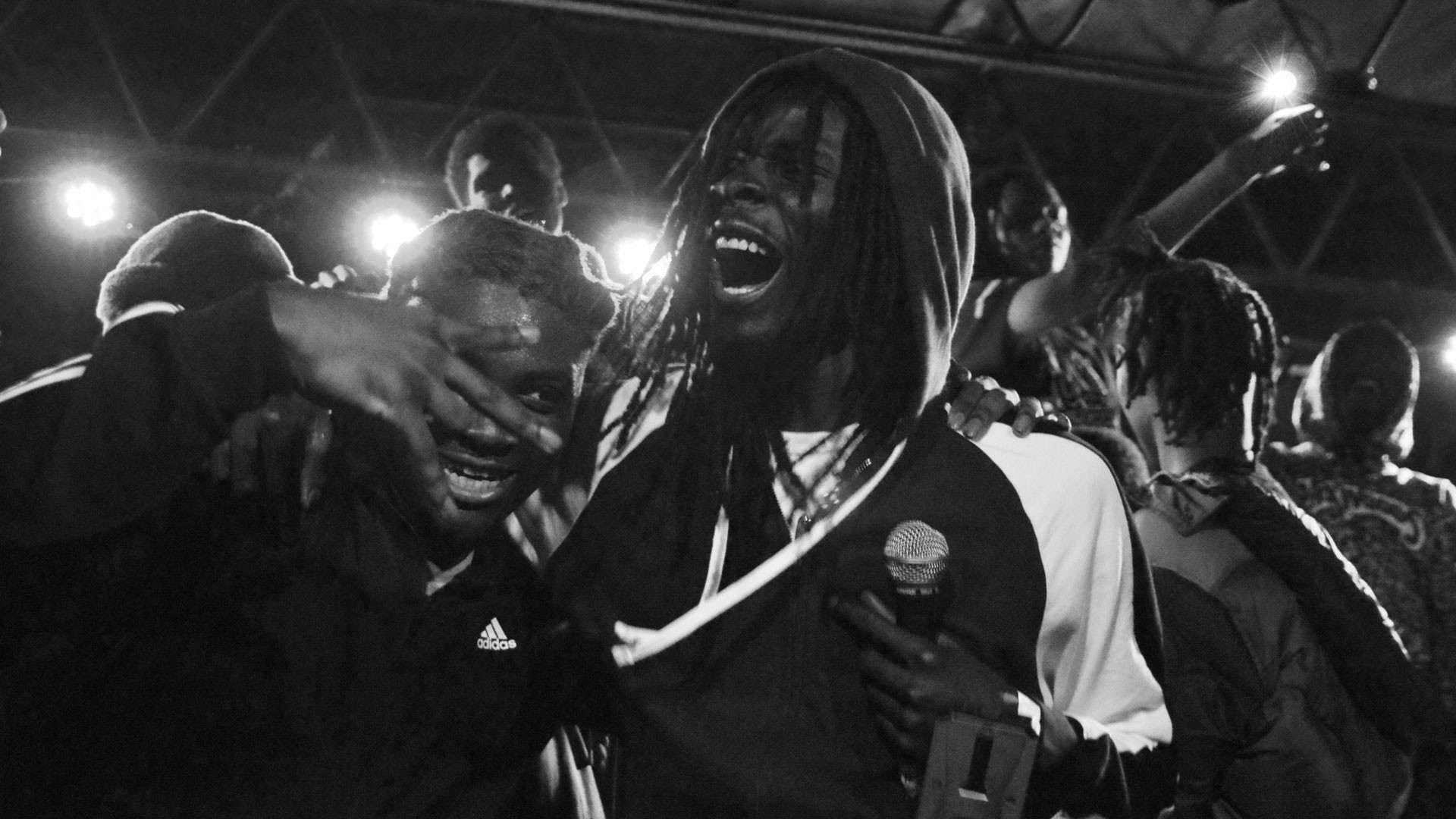 Muney's opening set was perhaps the most raucous of the evening when Detroit rappers Drego and Beno headlined Aftershock in Merriam, Kansas this past November.
Muney and A'Sean's paths crossed again by the end of that summer. A'Sean had become aware of his recorded work, and before long, Muney was working with A'Sean's friends and collaborators in Caviart — a loose collective founded by the elder Gee Watts.
"He had got even better at rapping," A'Sean said of this reunion. "Whenever he would put something out, to see how people reacted, with little effort or promotion, I immediately was like, 'This dude's a star.'"
A house off 59th and Troost, where members of the collective stayed, became a makeshift headquarters for the crew. Their de facto in-house producer, Walt, would set up shop in the living room — sorting through beats and potential samples, and recording his friends when the timing was right. In addition to the concrete resources that these new alliances were providing him, Muney's artistic skill set was expanding rapidly.
We discuss one of the songs that emerged from his Caviart collabs. On "Posted," Muney gleefully dishes out more of his usual hood gunslinger bars, only this time, they're delivered over a cheery, ice-cream-truck-song-goes-trap beat, and following his catchiest chorus yet. Upon asking him if it took a moment to warm up to writing more melodic music with the Caviart guys: "No time," he answered before I could finish. "That was the scary part. I don't even know my own ceiling. As soon as they told me I had to express myself better, psh, that first day I made 'Posted.'"
Through this period of growth, Booder remained a motivational figure to Muney, A'Sean and the rest of the Caviart family, becoming a fixture at the house. "[Booder] would walk in the house and be like, 'Every time I come in here, there's six, seven, eight rappers and ain't nobody rapping,'" A'Sean fondly recalled after explaining the brotherly dynamic that Booder and Muney shared.
Booder was 23 when he died at Research Hospital in November 2017. He had sustained multiple gunshot wounds and passed shortly after arriving at the hospital, accompanied by Muney. The city of Kansas City lists his death among its 49 unsolved homicides that year.
"He always wanted to keep the mood light and jokey," A'Sean said of Booder. "[He was] that person [who] could step out of the seriousness and make everybody be happy, and I miss having that person around." Muney gets quiet when talking about him, but A'Sean spoke at length about how painful the loss has been for himself, only speculating how much tougher it's been on Muney.
To endure the traumatic death of a family member is one thing, but to turn around and, within months, create the most focused work of your career is another. Muney's latest EP, "Real Street N****," alludes to Booder on several occasions — "There couldn't be a realer n**** if they cloned him," he raps on "WET." Meanwhile, on the titular "RSN," Muney sounds as driven and confident as ever while melding his newfound melodicism with the barbed wire hostility of his earliest material.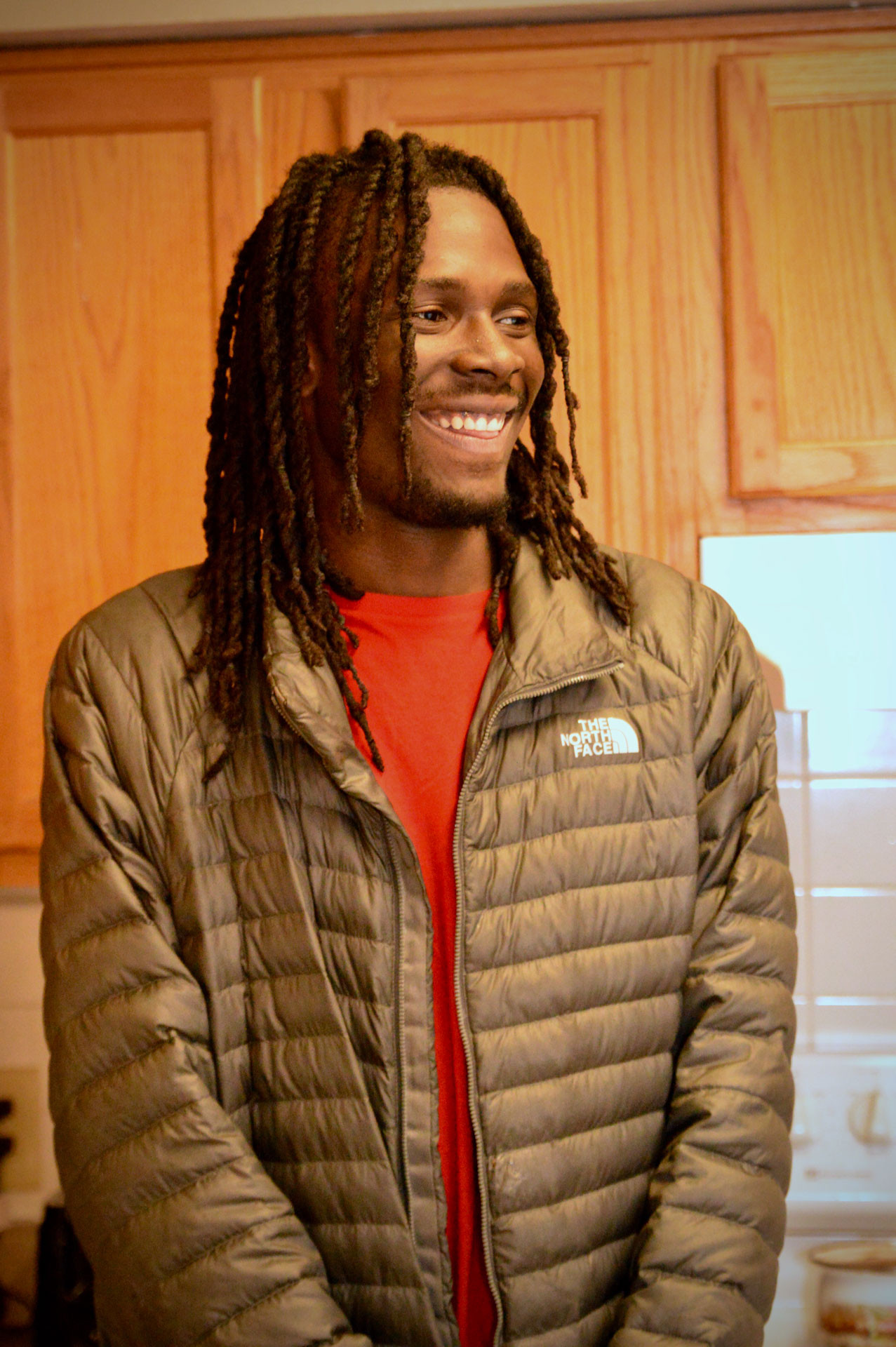 Muney poses for a photo in his manager's kitchen after his December show was canceled.
One thing you might notice about Muney's most recent music videos is that instead of toting a big iron on his hip, he's chosen to grip a Nerf gun. "I wanna make a good image," he said. "I don't wanna be a bad person in nobody's eyes, regardless of the message I'm sending in my music." That decision, he mentioned, came after witnessing a young child quoting a line from "Black Men Don't Miss" — his most viewed YouTube clip and an affectionate ode to his .40. A'Sean also noted that he's enjoyed watching him finally embrace his sense of humor, allowing the world to see the "goofy" Ray he's known all these years.
In addition to this voluntary demilitarization, another positive piece of information emerged during our interview. Muney had dropped out of the Central Academy of Excellence due to the violence he was exposed to — "I was scared for my life, so I had to make a choice: go to school and risk that, or not go to school and protect myself" — so it was encouraging to hear that he hopes to earn his GED, and eventually attend college to study criminal justice. "Lawyer shit," he chuckles.Chances are though, before Ray Muney passes the bar, he'll have at least a few hits under his belt. Perhaps his greatest leap toward national notoriety came in January via a featured verse on "Money Junky" — a collab track with a handful of other Kansas City rappers and Detroit rising star Beno. Beno was in town to perform at a late night gig at Aftershock in Merriam with fellow Detroiter Drego and Chicago drill scene icons, Lil Mouse and Matti Baybee.
Prior to the show, the performers and a couple dozen friends crowded into the kitchen of a rented mansion to shoot videos for the tracks they'd recorded together. Unsurprisingly, Muney's closing verse on "Money Junky" is another standout.
"My uncle told me I could do it. My brother always knew that's what we needed to do," Muney said, referring to his burgeoning music career. Nearly every aspect of his life has changed since his first adolescent brushes with hip-hop, but now he's closer than ever to the goal he first had in mind over a decade ago.
"I'm gonna make it with the music regardless."
—Aaron Rhodes is a music journalist based in Kansas City, Missouri. He is the editor-in-chief of Shuttlecock Music Magazine and a frequent contributor to 90.9 The Bridge and The Pitch.
Related articles