909 News
Making the Band | Recording
Constructing your musical canon: tips on the recording process
Becoming a successful band doesn't happen overnight. And it's rarely accomplished by the artists alone. Though the bands may be rocking onstage or on a record, there are a lot of people backstage or on the sidelines that help them get there. "Making the Band" will examine these unsung industry players to find out how their work ultimately paves the way for the headliners.
If the music industry is a machine with many parts, this series will be its schematic.
Part Three: Recording
So
you've got a few gigs
under your belt and a respectable amount of content to
build the hype machine
. As you transition into playing bigger shows, touring and generating press, it's pretty much necessary to have a professional recording of your sound.
According to the efforts of a dedicated few, around 200 album releases have been documented in the Kansas City/Lawrence area this year. From EPs to LPs to double albums; from cassettes to vinyl records to digital-only releases; from thousands of dollars spent in a professional studio to plugging a guitar into your laptop, the ease and accessibility of modern recording has made the process imperative for any musical artist today.
Beginning the process can be daunting. Here are a few things to consider as
you embark upon your first recording.
12. Look at Your Budget and Time Frame
While you may have lofty aspirations of holing up in a studio and waiting for inspiration to strike, it's probably smarter to focus on a small batch of material first. And there's usually a budget to consider.
It's generally advisable to hire an engineer with the necessary equipment, room treatments and experience. And according to Justin Mantooth, head engineer at
Westend Recording Studio
, you get what you pay for. "An engineer with real experience and the proper tools at their disposal may cost a little extra, but they will most likely work faster and make more positive decisions along the way."
Never make the mistake of thinking you can track an entire album's worth of songs in a day. Your 10 pop gems may only add up to a 30-minute album, but the process of setup, tracking and overdubbing is much longer. Think of an engineer as an artist as well; your song is the canvas, and they're using microphones, preamps and compressors to reinforce the message you're trying to convey. This takes time. As you get more comfortable in the studio with an engineer, the process will move along faster, but that person has to get to know you and your music first.
"I try to create a sonically lush listening experience that will grab and hold your attention." —Duane Trower, Weights and Measures Soundlab
13. Rehearse, Rehearse, Rehearse
Let's say you've decided to have a professional record your music. Many studios allow you to pay by the hour, or offer an eight-hour block of time for a discounted rate. When you walk into the studio, you should know your songs front to back, note by note. Otherwise, you're wasting your money and the engineer's time, and adding more pressure on your band to come up with a solid take. This can result in an unfinished or, perhaps worst, an unenlightened product.  
Lennon Bone, an engineer at
Element Recording
, asserts that a strong performance elevates the quality of the recording.
"
The better you play your instrument, the better the recording will sound. It seems obvious, but so many people get caught up in trying to let the gear do all the work. Great gear alone can't make something great, but if you pair great performances with great gear, you can indeed make something incredible."
Beyond your social media content and live snippets taken from someone's phone, your recorded music is essentially how you'll be judged by the outside world. On top of that, a reputable engineer is far more eager to put his/her name on a quality product. Even if they have all the bells and whistles to autotune your voice or loop those drum fills you couldn't nail, there's no way to turn a bad performance into a hit.
"It's my job to get a mix to sound the way they hear it in their head." —Justin Mantooth, Westend Recording Studio
14. Find Your Comfort Zone
The big question is often where to record and who to record with. You might have heard about a top-rate studio with an engineer who has worked with some of your favorite bands. But you'll be spending hours, days, weeks, perhaps months with a person who will be critiquing your art, so it's important to establish trust. Meet with a few different engineers to discuss your needs, goals and comfort level.
"A lot of the relationship between the engineer/producer and the client is trust," said Pat Tomek, who runs
Largely Studios
out of his home, with clients that include
Howard Iceberg
and
Victor & Penny
, along with two of his own projects,
The Rainmakers
and
Deco Auto
.
[caption id="attachment_50487" align="alignnone" width="450"]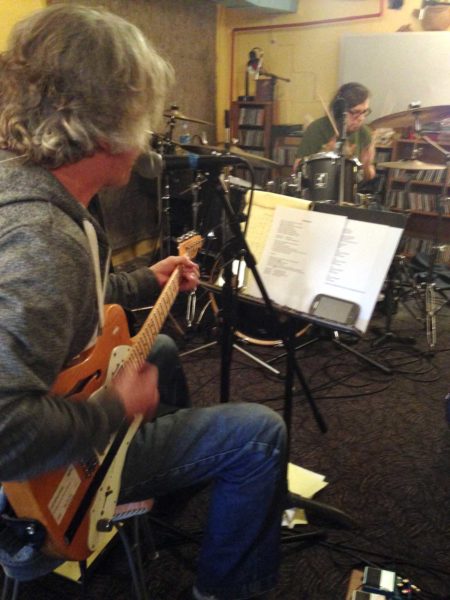 Pat Tomek at Largely Studios with Bob Walkenhorst | Photo: Whitney Thouvenelle[/caption]
Like Tomek, there are a number of experienced engineers with home studios in the KC area. To him, this can be an advantage. "I can't help but think that the act of inviting [a band] into my somewhat chaotic house breaks down some of the barriers right away," he said. "It helps them feel safer to show me (and the world) who they are, and that helps keep the music authentic."
Duane Trower, owner of
Weights and Measures Soundlab
, said that communication is key. "There's an emotional element that is exposed when recording. Performances are critiqued, and session direction and pacing sometimes need to be addressed. It's a very personal process."
For Joel Nanos, who owns Element Recording, the recording process should complement a band's rehearsal style.
"Bands obviously tend to be in the same room together when rehearsing, so I try to replicate that whenever possible," he said. "If they practice to a click track, let's record to one. If not, we probably shouldn't introduce that curve ball at the last minute with nerves at their peak."
"Great gear alone can't make something great, but if you pair great performances with great gear, you can indeed make something incredible." —Lennon Bone, Element Recording
15. Be Open
An engineer is looking at the technical aspects of your recording, but quite often, many of them double as producers.
Nanos has helped many bands discover their sound. He's worked with artists including
Madisen Ward & the Mama Bear
,
Berwanger
and
The Grisly Hand
.
[caption id="attachment_50488" align="alignnone" width="600"]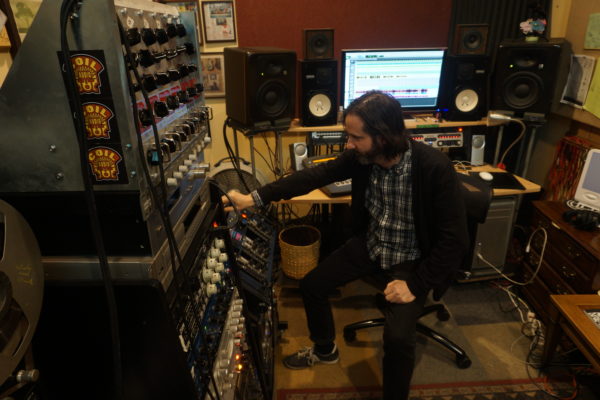 Joel Nanos at Element Recording | Photo: Michelle Bacon[/caption]
"It's always powerful and rewarding when a band finds its sound in the studio," he said. "There is a genuine love and bond after that kind of event because you've so intimately shared their art with them or even merged with their art in some way. I don't like the idea of proactively attempting to imprint something of myself onto a song for the sake of ego; it's important to let these things happen organically."
Bone, who has produced albums from acts like
The Thunderclaps
,
Shadow Rabbits
and
The Too's
, feels that the artist should trust the producer to take chances. "
I always work from a place where no idea goes unexplored. Nine out of 10 times it ends up changing, but it sparks something new and better."
Other artists have a clear vision for their songs, and need an engineer who will capture the sound at its best.
"I don't really try to change a band in any way, but frame what they do in the best light," said Mantooth, who has recorded artists including
Bummer
,
Radkey
and
Mac Lethal
. "It's my job to get a mix to sound the way they hear it in their head. A lot of times I have to tweak tones in a way that suits the style and gels together in a way that works in the environment we're recording in."
16. Think About The Audience
While many bands can achieve an engaging stage show, their songs lose some degree of substance in the studio. A good engineer/producer will help an artist convey his/her musical vision effectively.
Trower has worked with artists from
The People's Punk Band
to
Katy Guillen & the Girls
and
Hearts of Darkness
. For him, the key is to express the artist's emotion through the technical aspects of the recording process and the production side.
"I try to get the most out of the artists, whether we're addressing production ideas, instrument tones, arrangements, instrumentation, coaching performances, selecting session musicians or managing the session's daily events," Trower said. "I try to create a sonically lush listening experience that will grab and hold your attention."
"Making the Band" is a six-part series appearing Thursdays on The Bridge. Follow along with #makingthebandkc. Next week: Step 4 — Releasing Music
— Michelle Bacon is a musician and writer dedicated to the Kansas City music community. She advocates for and helps spotlight music in the area, writes web content for 90.9 The Bridge, and plays with The Philistines and Chris Meck & the Guilty Birds. Her grandma will always be the coolest person she knows.
Related articles