Kansas City's Making Movies Launches Making Movies Carnaval an Annual Cultural Music & Arts Block Party Presented by 90.9 The Bridge Featuring Ozomatli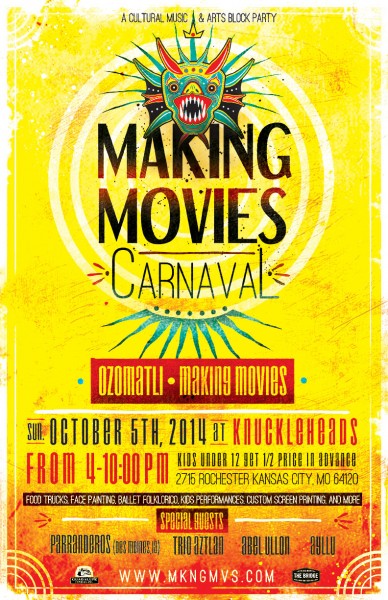 Making Movies Carnaval is a celebratory block party, bringing Kansas City residents and their families together to share an appreciation for alternative Latino arts. "Kansas City does not currently have any major outlet for fans of alternative Latin music. The Carnaval allows us to fill that void and showcase the various cultures of all of Latin America, not just Mexico. We hope to make it a very rich experience, no matter what ethnic background the audience comes from," says event planner, Diego Chi. The lineup features Grammy award-winning group Ozomatli, which NPR says, "is known for its effortless mashup of musical styles, including funk, hip-hop, rock and salsa … and has performed around the world, including as U.S. Cultural Ambassadors."
With sweeping recognition and success, Ozomatli has largely influenced the alternative Latin music scene in the United States. The event will culminate in live entertainment provided by Ozomatli and host, Making Movies. In addition, the Carnaval is curating art for a galeria and will also feature face painting, custom screen printing, South American food, and folkloric music and dance performances on multiple stages.
The lineup of special guests for this year's Carnaval includes Parranderos, Trio Aztlan, Abel Ullon, Ayllu, and students of The M.U.S.I.C.A. Project—Making Movies' own youth music program. A portion of special merchandise sold at the event will benefit the Guadalupe Centers, a local non-profit organization serving the needs of the Latino community. Dollars raised will go toward supporting The M.U.S.I.C.A. Project at the Guadalupe Centers.
Please join Making Movies and take part in the first ever Making Movies Carnaval this October. Children ages 12 and under get in for half-price until 7pm. Internationally touring band Making Movies has had its bilingual music featured on MTV, NBC Latino, CNN en Español, NPR, and other national publications. The band is poised to re-release its second album titled A La Deriva, which was produced by Grammy Award-winning producer and artist Steve Berlin of famed rock band Los Lobos on Colorado based label, United Interests. Making Movies will embark on an East and West tour this fall.