909 News
All Together Now: Making Music With JAENKI
Above image: Above image of JAENKI by Chanel Katarina
With the release of a new single earlier this week, JAENKI stepped outside of its wheelhouse. The group chose a cover of Drake's 2017 hit, "Passionfruit," peppering its own esoteric indie-pop proclivities into a buoyant, seductive dancehall track. But for a collective of musicians who continually seek out imaginative directions for its material, this might just be par for the course. Here's more on how the band develops its songs.
Divide and Conquer
"Our songwriting process is a mess; that's the best way to describe it," said Ryan Wallace. Along with bandmates Kenn Jankowski and Drew Little, the role of each member often shifts from song to song. Each member functions as a songwriter, vocalist and multi-instrumentalist; Jankowski and Wallace switch between synths and guitars, while Little plays drums, bass and percussion. Before joining forces in 2015, all of the members had been in prominent touring acts — Jankowski fronted The Republic Tigers, Wallace fronted Heroes + Villains and played keys with The Republic Tigers, and Little drummed for Vedera and The Slowdown. The moniker "JAENKI" was originally reserved for Jankowski's solo side project, but he turned it over to the group when they began collaborating. "We all had songs that were already 50 to 80 percent done. They had either been rejected by previous groups or needed somebody else to help finish them," Little said. "Once we started playing stuff for each other, we got really excited."
Slow and Steady
For JAENKI, the composition process can take weeks, sometimes even months. "Sometimes I'll work on one thing and I can't stop until it's done or I go insane," Jankowski said. "It can make things seem very slow, and my nightmares are terrible because it's just one song." The songwriter has been known to disappear for a month at a time and return to his bandmates with an idea, which is passed around digitally to each member as he adds his own parts. "We'll take Kenn's original idea and Drew or I will add something," Wallace said. "Before you know it, we have all these new ideas, and turns out it's just for one song. But it all fits together well." Many of these ideas can be found in JAENKI's concise but cogent catalog of recorded material, which now includes a handful of singles, an EP and another one on the way (the next EP, "Every Human," will come later this year). It's a collection of beautifully interweaving melodies, threaded together by each member's individual voice and some resplendent production.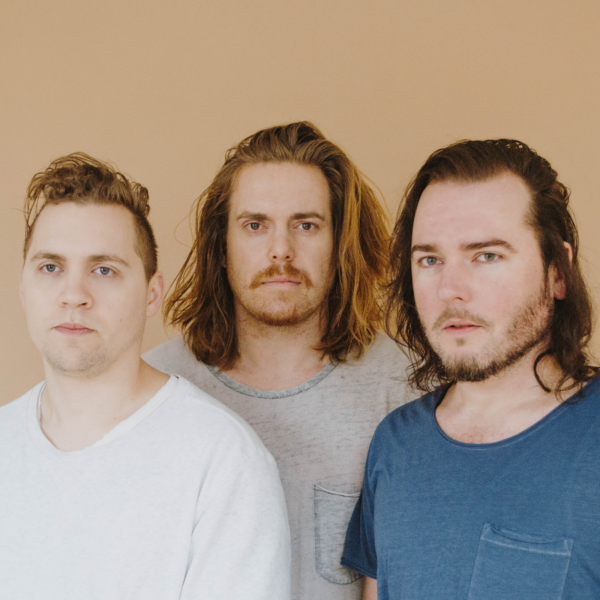 Photo by Chanel Katarina
The Missing Piece
While the members often work independently to cultivate a song, they also value collaboration as a key part of the process. "Two of my biggest influences right now are these guys," Wallace said of his bandmates. "I listen over and over to what they're making and try to write something similar, which ends up completely different because it's my interpretation." JAENKI has also worked with a number of other musicians, such as Rachel Mallin, Paul Malinowski and most recently, vocalist Grace Griffin on "Passionfruit." "Working with others gives you a new formula every time, which keeps it interesting as an artist, or someone who gets bored easily," Jankowski said. "Sometimes it's the missing puzzle piece."
From Studio To Stage
And with the band's propensity for ornate production, it means that translating the recorded songs to a live setting is a totally different beast. "There's a different level of understanding, knowing that we don't have seven members to put together these parts," Little said. "We know it'll be different live, but we try to get the vibe right and represent the recordings as well as we can." In addition to choosing and learning their parts to execute live, each member has to select certain tones, play to a click track and in many cases, be able to sing and play at the same time. "Recording and performing live are two different artforms," Jankowski said. "We've replicated studio versions on stage, but I'd like to separate them more in the future. Hopefully you'll hear something different when you see us live." Check out JAENKI's new single, "Passionfruit," and stay locked on the band's website to get updates about upcoming shows and the release of the "Every Human" EP. —Michelle Bacon writes about music for The Bridge, and plays drums and bass in bands. Follow her on Twitter or Instagram at @michelleobacon.
Related articles