909 News
International Guitar Month: Behind the Strings
Above image: Above image: Mica Elgin-Vi's Epiphone Casino (left) and Cody Wyoming's 1979 Stratocaster. | photos submitted by artists
Some of music's most iconic guitars have known histories. When B.B. King risked his life to rescue his $30 Gibson from a burning dance club in 1949, he named it and all of his subsequent guitars Lucille. Then there's Willie Nelson's Trigger, the almost 50-year-old classical Martin acoustic that's nearly as famous as its owner. More recently, we've been introduced to St. Vincent's signature Ernie Ball Music Man, specifically designed for female guitarists with functionality and fashion in mind. But what about the guitars owned by Kansas City musicians? In honor of International Guitar Month we explore the sentimental value, the street corner discoveries and the royal lineage from some of our local guitarists' beloved instruments. For more on KC guitar gear, see our feature from last year.
Jake Keegan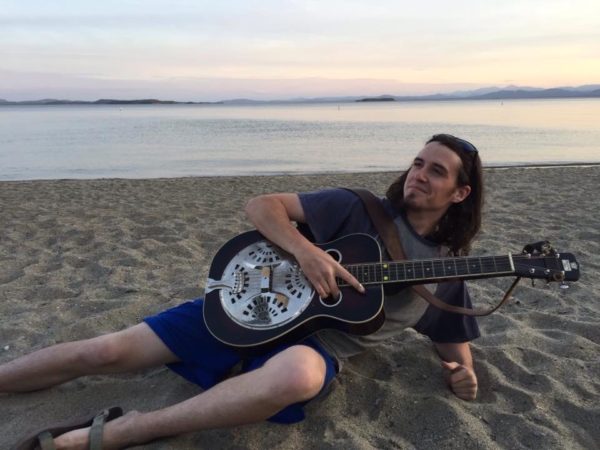 Jake Keegan's Recording King Squareneck Resonator helped him lay the groundwork for his band, Grassfed. | Photo submitted by artist
Guitar: Recording King Squareneck Dobro Resonator guitar I did not intend to buy a resonator guitar. I had played guitar for around 10 years and was planning to buy a new Telecaster, but the universe had other plans. I saved for months to purchase an electric, but I changed my mind upon stumbling into a Jerry Douglas show at a music festival. Hearing a Dobro master at work may have had influence, but it hit me with unwavering certainty that I needed to learn how to command that beast of an instrument. Little did I know that fateful day would change my life and eventually lead to my role in helping create Grassfed. As soon as I returned to KC, I went to the Folk Store to check out Louis Meyers' Dobro selection, and spent hours finding the one that called me. I found a humble Recording King Squareneck Dobro — a middle-of-the-line guitar, affordable and not too flashy, but with excellent tone. I recall Louis playing the guitar one last time at the checkout counter. Despite his massive instrument collection, I could tell that he still had a connection to every instrument he owned, and it established our relationship. The Folk Store directed me to a steel summit (a meet-up/jam for steel guitar players), where I first met Chad Graves, my future Dobro mentor and one of my best friends. Resonators are all about the hardware and what's under the hood; Chad helped set mine up and soup it up like a hot rod. He set me up with the best possible parts — a Beard Legend and a #14 spider — taking it from sounding good to exceptional. The guitar has been on tour across the country and Europe. It's picked up a few battle scars and scratches; Its once shiny cover plate has now worn down and the chrome has faded where my palm rests. They are imperfections, but they give it character and make it mine. When I was young, my guitar teacher told me, "There are some guitars that get kept pretty, and there are others that get played." It is my rock and inspiration, the thing that rattles my brain and keeps me striving. I dream of Dobro.
Jeff Porter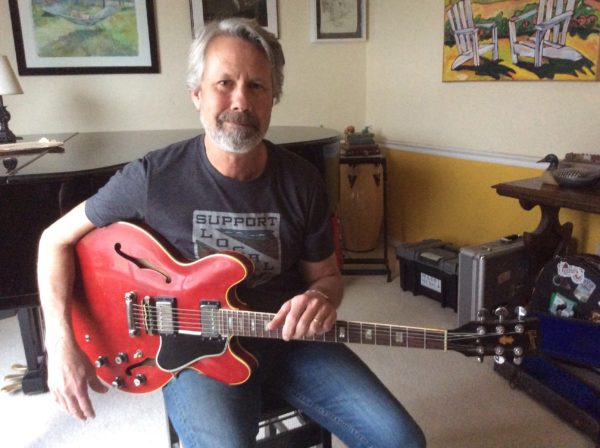 Jeff Porter, of The Rainmakers, received his first electric guitar from his father — a 1966 Gibson ES-335. | Photo by Barb Porter
Guitar: 1966 Gibson ES-335 In 1974, I was a sophomore in high school. I had a Yamaha FG-160 acoustic and had been playing guitar for a few years. I was becoming fairly decent at covering songs by Kris Kristofferson, The Ozark Mountain Daredevils and my favorite back then, John Prine. One day, the band teacher approached me and asked if I'd consider playing guitar in the school stage band. I was thrilled to be asked and said I would love to, but I didn't know a thing about jazz, and I didn't have an electric guitar. She said I was welcome regardless. I rode the bus home with my head spinning, thinking about actually playing in an ensemble. My father was a music lover and would often come listen to me practice in my bedroom after dinner. One evening, I mentioned that I was asked to play in the school stage band but couldn't because all I had was my acoustic. He said that he knew of a family friend with an electric they weren't using and suggested I call them to see if I could borrow it, to see if stage band would be a good fit for me. That guitar was a Kent solid body Stratocaster-style guitar. It was impossible to get in tune and nearly impossible to play, but I lugged it and a borrowed amp to rehearsals for a few weeks, just happy to be exploring a different avenue of music. This next series of events is etched in my mind forever. About a month later, I was in our basement playing pingpong with some friends when my father called down to me and said to come upstairs, using a tone of voice usually reserved for when I was in trouble and about to get a lecture. I walked up the stairs wondering what I had done. When I got to the top of the stairs, he was standing there holding a 1966 Gibson ES-335. "I got this for you today," he said. "I can tell you're serious about this, and you need a decent guitar." Wow! I got weak in the knees. My ears started buzzing. I thanked him over and over again. Then I took it downstairs and showed my friends and basically said the pingpong game was over because I was going to play guitar for the rest of the day. I still have that guitar and play it regularly. It plays and sounds fabulous. I've replaced the tuning heads and did a stop tailpiece conversion on it in the mid-1980s. I also replaced the bridge and nut many years ago. I cherish very few material possessions, but at the top of that short list is the 335 my father gave to me.
Chris Swope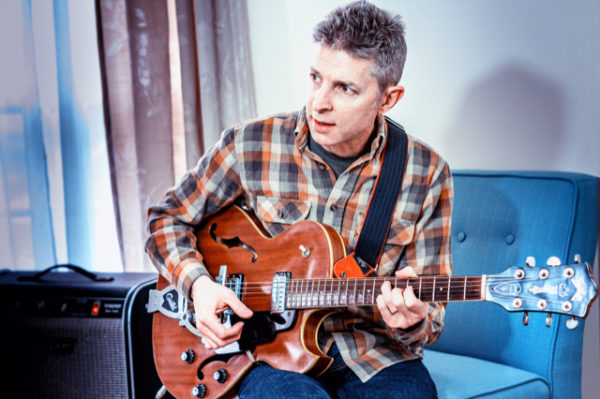 Years before he started building his own guitars, Chris Swope bought his first electric – a Guild Starfire III. | Photo by Tim Huggins
Guitar: 1967 Guild Starfire III I bought it used at Quigley Music in 1981. It was 14 years old and so was I. It was my first electric guitar. It cost me $200 of hard-earned lawnmowing money. It had, and still has, an amateur-hippie natural refinish. It is special to me because it was my first electric guitar and it is also special because I let it go, regretted it, and after decades gone, it came back to me. In 1981, a Guild Starfire was nothing like what the other kids were buying. I was very into '60s British Invasion stuff at an early age, and the guitarists I idolized played hollow body guitars with Bigsbys. After a year or so, I started pining for a Gibson 335, and after a failed attempt at a trade-in at Quigley's, I found one I could almost afford in The Kansas City Star classifieds. So I worked out a scheme with my friend Andy to have his dad buy the Starfire so I could repay my parents the balance I borrowed from them for the 335. In the late '80s, Andy traded it for a blue Westone Spectrum SX, a total heavy metal dive-bombing machine – pretty much the anti-Starfire. A couple years go by, and his dad called and asked him to bring the Guild back over. Andy had not told his dad he traded it away, so he stalled. As luck would have it, soon after Andy was perusing the classifieds and saw an old Starfire III for sale. He tells me he knew it had to be the same guitar and sure enough, it was. But the guy wanted too much money for it and wouldn't budge. Andy didn't have the cash, so he asked his girlfriend's mom to loan him the money. He got the Guild back to his dad, and his dad turned around and loaned it to a kid up the street. That kid had it for years, but finally it was retrieved, and by the 2000s, found its way back into Andy's possession. In 2008, I showed up at a holiday party and there was the old Vox case that Quigley's sold me with the guitar. I see Andy, [and ask] "What's this doing here?" Inside was the Guild Starfire. "Dad and I thought you should have it back." I have owned hundreds of guitars over the years and have come to the conclusion that everything is for sale. But I won't sell this one again.
Mica Elgin-Vi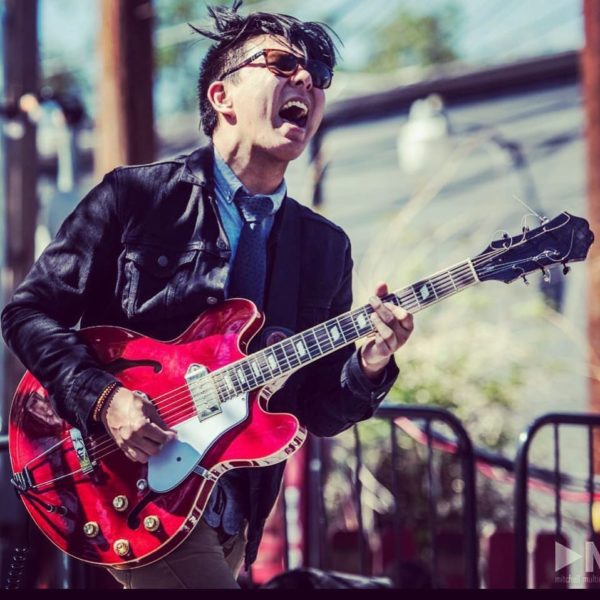 Mica Elgin-Vi's Epiphone Casino is crucial to Modern Day Fitzgerald's jazzy pop sound. | Photo by Dan Mitchell
Guitar: Epiphone Casino My Epiphone Casino is a hollow body guitar that's versatile for any genre — rock, blues, surf, jazz and especially the kind of music that Modern Day Fitzgerald plays. I bought it locally at Springfield Music about four years ago. This is where I get most of my guitar gear. When I started college, I was really into a band called Phantom Planet. I was still a new player, so I didn't know what all was out there. I knew about Stratocasters and Les Pauls, but I'd never really seen another guitarist play a hollow-body like Alex Greenwald, the lead singer of Phantom Planet, did. I tweeted him to ask what kind of guitar it was, and he told me it was a Casino. After college, I finally bought the guitar. This one was mine, so I decided to actually make it mine. I wanted to remind myself that this was a tool to use to share my songs. Throughout the years, I came across musicians who judged each other by gear and guitar brand. I decided to remove that idea from the equation by sanding off the Epiphone logo from the headstock. If people wanted to judge me on my songwriting and guitar skills, I'd rather let my music be a factor and not the brand of guitar I play. I also have a big note on the back of it that says, "I DID NOT SELL THIS GUITAR," written in Sharpie, as well as my contact information. If someone decides to steal my guitar, they will have a hard time pawning it off.
Cody Wyoming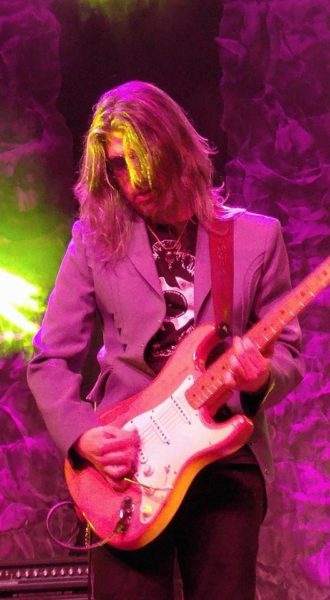 Cody Wyoming's 1979 Stratocaster was passed down from one of his mentors, Louis Meyers. | Photo submitted by artist
Guitar: 1979 American Fender Stratocaster Specs: It's been upgraded with Fender Custom Shop Texas Special Pickups and a Wilkinson Tremolo setup. It has a heavy ash body and weighs almost exactly 11 pounds, which is about 5 pounds heavier than most Strats — it's a beast. In its original form, it had a natural finish and a black pickguard. However the black pickguard was lost and somebody used a rattle can of pink spray paint to give it the look it has now. Some would call it relic'd, but the truth is, it's a bad paint job that has been wearing off. A couple years ago, I worked for Louis Meyers at the Folk Store doing sales and repairs, and fell in love with this pink Strat on the wall. Awhile later, when The Philistines were recording, I discovered that I needed a Strat for a particular song, and then I borrowed it again when my main guitar broke. Bear in mind, I've never liked Strats and still don't – only this one. Louis would tease me that someday he might give me the guitar "if I ever got good enough to play it." Then, he moved to Texas and took all of his guitars with him. And then, out of nowhere, he died. It took us all by surprise. A week or two later, a friend met with the Meyers family to go through his vast instrument collection and get it ready for auction. They weren't overly sentimental about music and were looking to liquidate a lot of it. Louis kept immaculate records of everything he bought and how much he paid for it. And as it was told to me when they got to this guitar, a family member said something akin to, "How much did he pay for this piece of crap and why?" My friend had the presence of mind to tell them that Louis promised the guitar to me, and unbeknownst to me, they said, "Yeah, just give it to him." A week later, my friend called and said, "Meet me at the storage unit. I have something for you." When he opened the case, the heavens parted and the angels sang. We've been inseparable ever since. Because Louis never actually gave it to me, I still feel like it's his guitar and I'm just playing it because guitars are supposed to be played. I also miss him, and it's good to have a part of him with me when I make music. —Michelle Bacon writes about music for 90.9 The Bridge, and plays bass and drums in bands. She can also sort of play guitar, but doesn't like to admit it. Follow her on Instagram or Twitter at michelleobacon.
Related article