909 News
Anyone Can Play Guitar: Celebrating International Guitar Month
Above image: Chris Meck's Fender Stratocaster | Photo: Khitam Jabr
As the song goes, "Anyone can play guitar and they won't be a nothing anymore." But, in most cases, that isn't true.
Six-stringed self-indulgence is an epidemic. At any given moment in some bar or house party, there's a jam happening, and about seven dudes at each one who think they can shred. Sadly, most of them cannot. The grating tones and garish notes of a carelessly extravagant guitar solo are enough to drive a person mad.
So, there's something truly special about a good guitarist — the player who mesmerizes with a fervent solo, but still has the restraint to build an engaging atmosphere around it. The wizard who textures the entire mood of a song with a few intricate, tasteful patterns. By thoughtfully bending strings and manipulating sound effects, these players articulate emotions that cannot be properly expressed through words.
In honor of International Guitar Month, we talked to a few of KC's favorite ax slingers about their background and influences.
Alex Alexander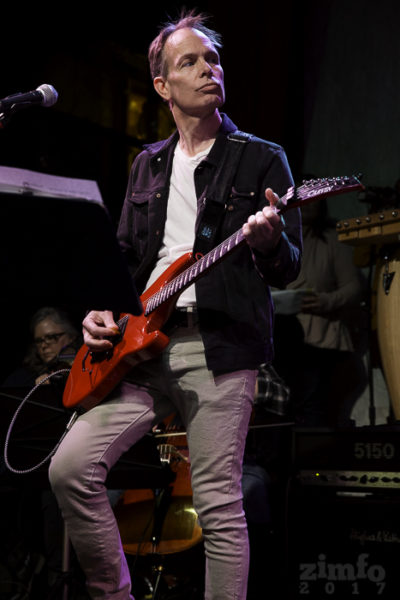 A brief rundown of your setup: My main guitar is a Carvin DC125 that I custom ordered in 1989, and my rig is an original 5150 head with a Hughes & Kettner 2x12 cabinet. I have a pretty standard pedalboard, with the standout being the B9 organ simulation pedal.
At what age did you start playing? How did you learn? I began playing at age 13, was holed up in my room for about 3 years, and by 16 I was the hotshot guitar kid in high school (AKA: dork).
Whose guitar work have you studied or been influenced by the most? What about local guitarists? My early influences were Alex Lifeson and Randy Rhoads, then later Bob Mould and a bit of Brian Baker. The local guitarists I've loved working with are Katy Guillen and Mike Alexander, both of whom have skills and impeccable taste.
What is your dream setup? I'm still looking for a dream amp, but I love the Music Man St. Vincent signature guitar. Visually, it's absolutely stunning.
Sweet riffs/solos you wish you would have come up with: When I think of riffs, the intros to "Celebrated Summer" (Bob Mould), "Tour Spiel" (D. Boon) and "Sweet Leaf" (Tony Iommi) come to mind. And the perfect solo: Stevie Ray Vaughan in "China Girl."
Three short tips for beginning guitarists: Learn the open chords first, then patiently practice transitioning between them until the motion is fluid. Also, don't try to sing while you play, that should come later.
Beau Bledsoe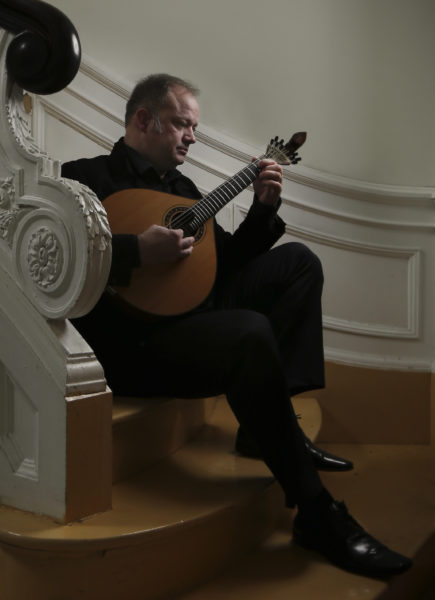 Beau Bledsoe (of Ensemble Ibérica) with his 2003 Fernando Meireles Portuguese guitar. Photo: Jim Barcus @ Kansas City Museum
A brief rundown of your setup: My main guitars at the moment are a flamenco guitar made for me in 2010 by Salvador Castillo. I also have a very good Portuguese guitar made by Fernando Meireles of Coimbra, Portugal.
What's special about your guitar? My guitar made by Salvador Castillo is truly a gesture of friendship. We have a business together selling his guitars from a small town in central Mexico called Paracho, Michoacán. Everyone that lives in this town is affiliated with guitar building, and it's a beautiful little paradise for the guitar aficionado. He made it from some extremely rare "old growth" rosewood called palo escrito that is almost all gone in Mexico. He had the wood in his family stock for a long time and made an amazing instrument from it. It is signed and had a very kind note to me on the label inside.
At what age did you start playing? How did you learn? I went nuts at about 14 when MTV came out. I'd had always been playing socially since I could remember; I'm from Arkansas, and music is a big part of daily life in the South. I was largely self-taught until I started attending college for music in 1988. These days I use YouTube all the time. It's very similar to when I'd drop the needle on a record as a kid, but with modern software, you can get every note and see where each finger lays.
Whose guitar work have you studied or been influenced by the most? What about local guitarists? The guitar is a big deal in this town. There are four elder statesmen that all of us look up to that seemed to have come about at the same time: Pat Metheny, Rod Fleeman, Danny Embry and Rob Whitsitt. I also really respect Katy Guillen as a human and player. She was my student when she was a kid, and we both play the same Telecaster! Justus West and TJ Klein are two young guys to keep an eye out for.
What is your dream setup? I'm in the middle of a very satisfying tone quest at the moment, and I think I'm almost there (of course you never really arrive). I've started playing electric again for the first time since I was a teenager. I call it my mid-life Tele crisis. I have a butterscotch G&L Telecaster that Marco Pascolini has helped me modify over many hours of highly nerdy soldering sessions. That guitar is paired with Chris Meck's old '72 Fender Deluxe Reverb that has also been modified by Marco with some old tubes he found in a Baldwin organ on the roadside.
Sweet riffs/solos you wish you would have come up with: The first riff and solo I learned: "Whole Lotta Love" by Led Zeppelin.
Short tips for beginning guitarists: The coolest thing about the guitar is that it is everywhere in the world and inherently genreless. Listen to that voice in your head that wants to try new things, even if it's outside your cultural safe zone.
Katy Guillen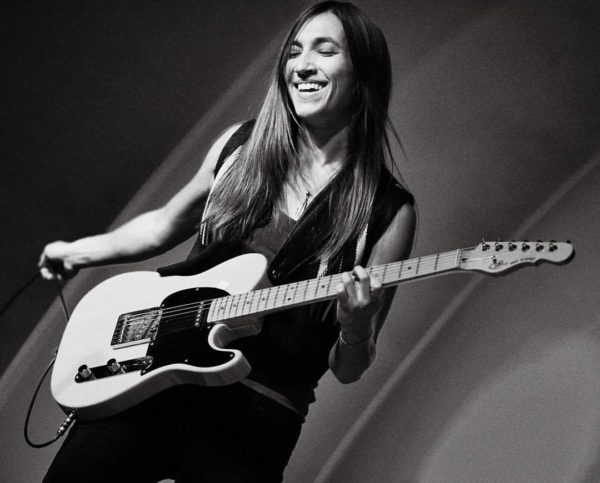 If you've seen Katy Guillen (of Katy Guillen & the Girls) in action, you've probably caught a glimpse of her G&L ASAT Classic. Photo: Aaron Bowen
A brief rundown of your setup: My basic go-to electric guitar setup is a G&L ASAT, run through a custom-built Hiwatt Bulldog combo amp made by Duane Trower. Pedals: Boss chromatic tuner, Boss blues driver, Cry Baby wah pedal and an Ibanez digital delay.
What's special about your guitars? My G&L was a lucky find through a friend, which turned me from a Fender Strat person to a G&L ASAT person indefinitely. A couple of my other favorites are my Alvarez acoustic/electric because I've had it since high school, and my Morales flamenco guitar. It was handmade in the town of Paracho, Mexico, and found for me by Beau Bledsoe, who was my instructor at the time. My most prized guitar is my grandfather's flamenco guitar. He passed before I got heavily into the guitar, but he also studied flamenco guitar. My mom always says when I play flamenco, she feels like he's in the room.
At what age did you start playing? How did you learn? I got my first guitar when I was 8. I asked for an electric, and my parents got me a 3/4 classical guitar to get started. My mom was my very first teacher for a few years — she played and taught through high school and college, and she taught me basic chords and basic technique. Then I started taking lessons from Vince Kirk, and then Beau Bledsoe. I also used to put on an album and play with it, learning licks and chord progressions by ear from start to finish. Playing with CDs was how I'd jam before I started going out to live jams and playing with people, which was a whole other learning experience in itself.
Whose guitar work have you studied or been influenced by the most? What about local guitarists? I learned from a couple of great instructors, and also from many different players that would frequent the local blues jams when I was in high school. Beau and Vince were both very influential on my playing, and also on me as a person — they are both wonderful people. In addition to them, the KC guitar players I've really enjoyed watching and playing with have been Bill Dye and Rod Fleeman. Wider known players are Moraito, Tomatito, Pepe Habichuela, Muddy Waters, Eric Clapton, Bonnie Raitt, Django Reinhardt, John Scofield, Jimmy Page, John Lee Hooker, Rosetta Tharpe and Joanna Connor.
What is your dream setup? I'm very happy with my setup right now, which I've arrived at after lots of trial and error. I expect it will evolve as long as I'm playing. But I'm not really a gear person, and it's not something I think about often.
Sweet riffs/solos you wish you would have come up with: The [Hendrix] "Voodoo Child" riff is sweet — it's a fun song to play. Three short tips for beginning guitarists: Have fun. Learn diverse styles. Play with people.
Chris Meck
Chris Meck (of Chris Meck and the Guilty Birds) builds his own guitars, including this 1965 Fender Stratocaster clone. Photo submitted by artist
A brief rundown of your setup: I'm mostly state-of-the-art 1968 — I play a Stratocaster I made to vintage specifications through a 1968 Fender Bassman. I use modified Fuzz Face-type pedals like Hendrix used, along with a Uni-Vibe and octave pedal. Also the roots rock staples — tremolo, reverb, delay and a Leslie simulator for the swirlies. I use modern equivalents when useful, but I like sounds and tones that are timeless. I avoid the "new thing" in gear and effects because it dates your music in very short order.
What's special about your guitar? I couldn't find a guitar that I liked at a Guitar Center that wasn't $3000, so I started building my own. A week later, my vintage 1972 Telecaster was stolen, so I had to hurry up and finish building one because it was all I had! Since then I've become a bit more refined and selective in choosing parts, so they're pretty consistent now. If I build one that doesn't speak to me, I disassemble it, part it out and move on. My current number one has been my favorite for a couple of years now; it's a '65 Stratocaster clone and it just feels and sounds right. I like the old Fender designs — they're a great platform for experimentation.
At what age did you start playing, and how did you learn? I started playing at 14. I wanted to play bass, but my best friend got a bass for Christmas and we had plans to start a band, so guitar it was. I took lessons for a couple of years, learned the basics and was off and running.
Whose guitar work have you studied or been influenced by the most? What about local guitarists? When I first started playing, I was (and still am) really into Jimi Hendrix and Prince. I went backwards and got into the older blues guys like Buddy Guy and Albert King. I've also played a lot of country and alt-country, though I play what I call English junkie country (in other words, Keith Richards-style country). It's all the same stuff, just a different feel, different emphasis and more or less fuzz depending. It's funny; I've done a lot of sideman work in a lot of genres, but I don't change the way I play that much; it's still a blues-based guitar style, but it works in a lot of genre formats. KC has a wealth of stellar guitar players, and it's always an eye-opening treat to see any number of people do their thing; but I suppose Jeff Freling, Marco Pascolini, Katy Guillen, Beau Bledsoe, Nick Schnebelen, and Samantha Fish would be favorites. I also like Nathan Corsi's almost chordal approach to lead work. Inspiration everywhere.
What is your dream setup? Well, I suppose I'm pretty close. A '66 Bassman, a couple of '64 Stratocasters and my pedals and I'd be all set. Anybody got $50,000 they want to spot me? Actually, I'd be afraid to take those out to play, so really, I'm happy tweaking what I've got. I like building guitars. I never really understood hot rod culture until I started it. It's really yours when you've been under the hood, you know?
Sweet riffs/solos you wish you would have come up with: Oh. So. Many. How about the entire "Purple Rain" album? "Sympathy for the Devil." "Gimme Shelter." "Born Under a Bad Sign." "Castles Made of Sand." "Little Wing," just for starters.
Three short tips for beginning guitarists: 1. Be in tune. Get a tuner, use it. It's not repeatable if you're not in tune. 2. Listen! So many people get so wrapped up in their thing that they forget to listen to the song and what the other players are doing. 3. Playing lead is like singing. A solo should have a melody, and have a beginning, a middle and an end. And don't forget to breathe! Space is as important as notes.
Krysztof Nemeth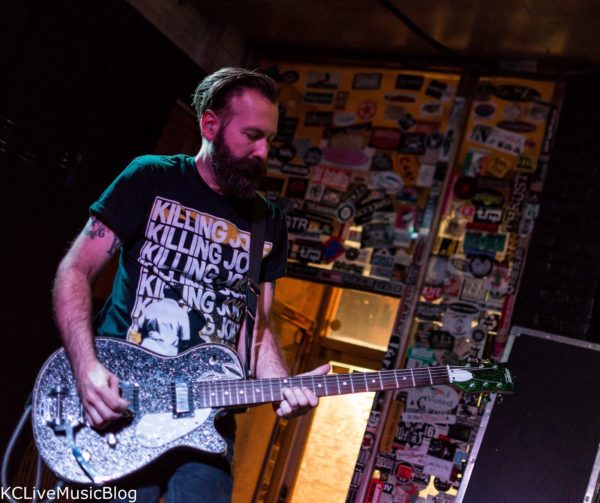 Krysztof Nemeth (of Emmaline Twist and Abandoned Bells) brings a low-end sensibility to the guitar, with his modified Gretsch Electromatic Baritone. Photo: KC Live Music Blog
A brief rundown of your setup: I play two different baritone guitars in Emmaline Twist. For the prettier sounds, I use a Gretsch Electromatic Baritone, and for the dirtier sounds, a Squier Jazzmaster Baritone. My amp is a Peavey Classic 50 2x12 that I've modified to handle to the extra low end that baritones put out. My pedal-chain contains the following pedals in order: EHX Soul Food Overdrive, a no-name Plexi Distortion, custom Clean Boost, tuner, EHX B9 Organ Tone Generator, Boss Flanger, TC Electronics X4 Alter Ego Delay, TC Electronics Hall of Fame Reverb.
What's special about your guitar? The Gretsch has had every bit replaced except for the neck and body wood. When I bought it, it was good, but technically a low-end instrument as far as its materials were concerned, so I have upgraded every bit of it to enhance its quality. It's been a fun process, and what's great about guitars — you can keep customizing them to your own preference of tone, quality and style of playing. That said, all that customization makes it so unique that it would be very difficult to replace… but I love it, and I'm glad all the work on it has paid off.
At what age did you start playing? How did you learn? I initially started playing bass as my first stringed instrument. I still love bass, but as I grew into more of a songwriter/arranger/producer with the projects I was on, teaching myself to be better on guitar was a necessity. Eventually, I crossed paths with the baritone guitar as an instrument, and I took that on as my main instrument. It's really the best of both worlds for me; having a scale and tone that is lower than a standard guitar, but still with all the things a guitar needs to be a lead instrument.
Whose guitar work have you studied or been influenced by the most? What about local guitarists? I'm very much influenced by the post-punk era of music, and how the guitar was used as both a textural rhythmic element in a song, and a vehicle for delivering big, majestic hooks. Players like Robert Smith of The Cure, John McGeoch of Siouxsie & The Banshees, Andy Gill of Gang of Four, Geordie Walker of Killing Joke, The Edge of U2 and so many others of that era were taking what the guitar was as a lead instrument into so many other cool directions. As far as local players, I have nothing but admiration for so many, but my top three are Mike Alexander, Marco Pascolini and Chris Meck.
What is your dream setup? Ya know, I'm good. I have been working for years on what's just right for me, and these weird "Frankenstein" baritones are totally me. My pedals and amp are all just stuff you can buy anywhere, but I seem to have everything I need at the moment. That said, I'd love for someone to come along and have me design a signature baritone for their line!
Sweet riffs/solos you wish you would have come up with: SO MANY! And you know what they say: "A good artist borrows, a great artist steals." Everything I've ever heard in my life that I think is great, I just internalize and let it become part of what helps me create new riffs and solos. Like some sort of musical virus, that stuff all mutates in us and becomes something else through our reinterpretation!
Three short tips for beginning guitarists: 1. Work on your tone: it's in your hands. Put that real feel into your playing. 2. Work on your tone: it's in your gear. Life is too short for crappy-sounding equipment. 3. Work on your tone: it's in your ear. Pay attention to how what you do affects others when they hear it. Hear a Spotify playlist featuring songs from these guitarists and a few of their influences.
—Michelle Bacon is still recovering from the self-indulgent guitar solos of her past and, for your benefit, will only play instruments with four strings or two sticks. Follow her at @michelleobacon on Twitter or Instagram, and let us know who your favorite guitarists are.
Related articles