909 News
An Interview with Derek Trucks
Derek Trucks met Susan Tedeschi in 1999. He'd just joined the Allman Brothers as a guitarist — his uncle Butch Trucks was a founding member — and that night Tedeschi, a blues guitarist and vocalist from Boston, was the opening act. Something clicked immediately.
In 2001, they married; by 2004, they were raising two children. In 2010, they started Tedeschi Trucks Band, a 12-piece ensemble that rapidly gained a reputation for its long, dynamic live shows, and for its commanding mix of rock, blues, soul, jazz and other genres.
In late 2016, their lives took a profound turn. Three longtime mentors and people very close to them died unexpectedly within a six-month span starting in November 2016: Butch Trucks, Leon Russell and Col. Bruce Hampton.
Compounding their grief: All three deaths were unexpected. Russell died at home in his sleep while recovering from heart surgery; Hampton collapsed on stage during his 70th birthday celebration concert and died at a hospital a short time later; and Trucks took his own life.
So in 2018, when they went into the studio to record their fourth full-length album, their hearts were burdened with sorrow and loss.
"Signs," recorded at the couple's in-home Swamp Raga studio in Truck's hometown of Jacksonville, Florida, expresses the wide range of emotions roiling through the band.
Over the course of 11 ballads and anthems, they plumb the many stages and facets of grief, from expressions of loss to declarations of gratitude — for those who have died and those we love who are still among us.
They and the band would need those words of comfort and support yet again after they'd finished the album. On Feb. 15, 2019 — the day 'Signs" was released — founding member Kofi Burbridge (keyboards, flute, vocals) died six weeks after suffering the second of two major heart attacks. He was 57.
Derek Trucks recently answered questions about making an album while awash in grief, raising children in these complicated times and his close connection to Kansas.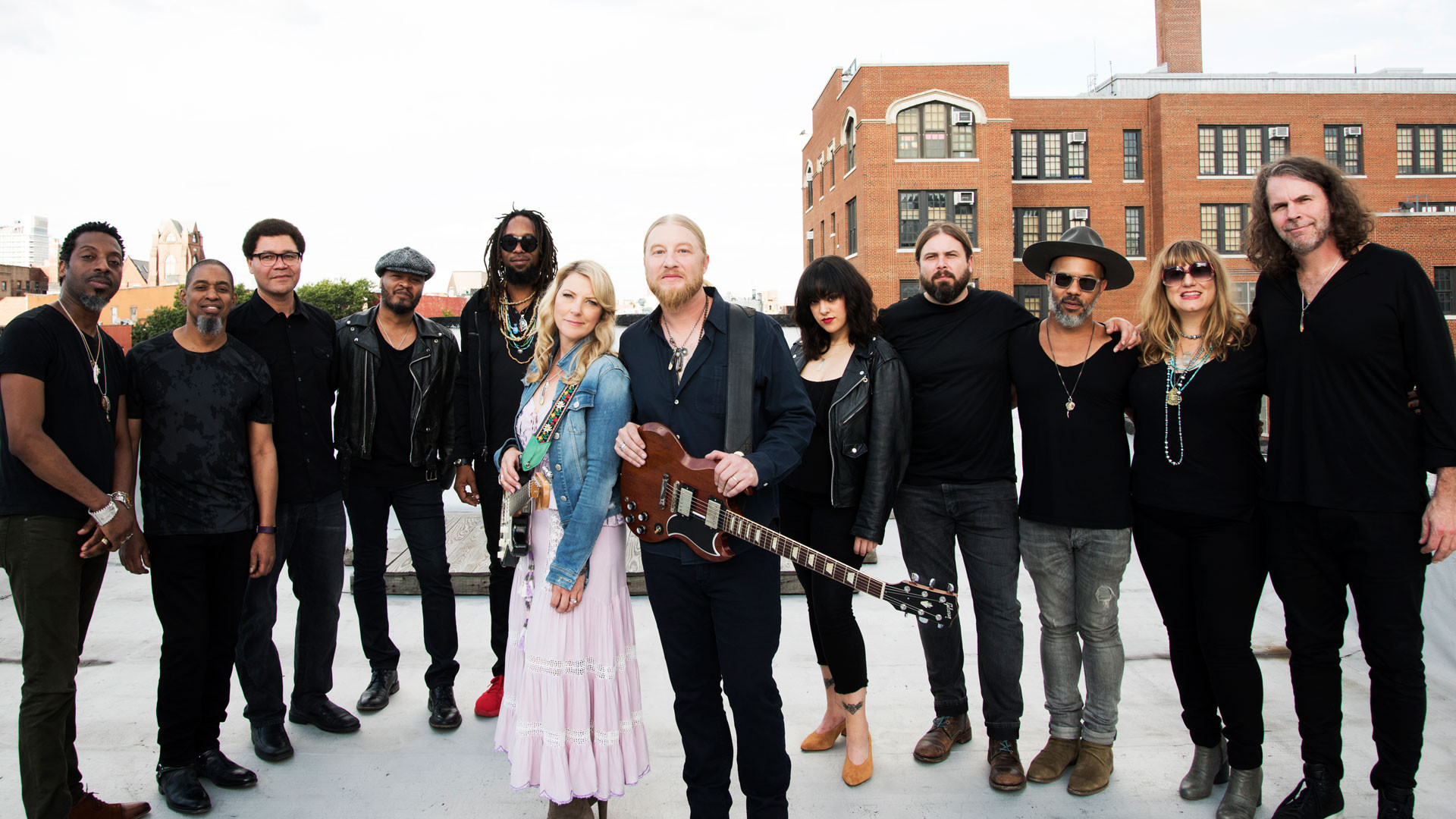 Tedeschi Trucks Band press photo for "Signs." Founding member Kofi Burbridge, who passed away in early 2019, is second from left. | photo: Shervin Lainez
You and Susan endured an inordinate amount of loss in a short period of time as you were writing and making this record. How prepared were you to deal with what had hit you?
I don't know if you can ever be prepared for something like that. The closer you are to people and the more time and music and energy you've shared, the harder it is to wrap your head around it, especially if it's unexpected.
Sometimes it comes in waves; that's just the way it is. Sometimes you have people around you who help you deal with it. Other times you don't have a lot of options. It's put one foot in front of the other and move on. It helps to feel gratitude for the time you had with them and appreciate all the things you learned from them. There's also a sense of duty to carry on.
The death of a band member: That must be particularly difficult, given that every time you perform live, you feel his absence.
I'd never lost a member of a band I was currently with. A lot of musicians I played with early — a lot of them died recently. I was a kid, 9, 10, 11 years old, playing with seasoned, sometimes grizzled, veterans who were getting up in years and a lot of them lived hard, so it's kind of natural they would pass.
With Kofi it was different because he was a contemporary — not as old as some of those other guys and he didn't live that way either. I mean, he wasn't a choir boy, but I didn't see that one coming.
When he passed, there was a deep, personal sense to carry on with his unfulfilled musical dreams. So it can be motivating. You feel lucky to have friends and family and band members around you. It definitely brought the band closer together.
Your uncle meant so much to you in so many ways. What do you think of when you think of him?
It's still complicated because of the way he went. If I had to guess 1,000 people that might happen to, he would not have made the list. So it was a total shock.
He was such a foundational character for me, personally because of the family connection, and musically because of his ideas and ideals. He was one of the pillars of everything I believe in musically. I still carry those things with me.
What did he show you about being a professional musician?
In all the years I knew him and played with him, he never gave anything less than all he had. He would leave it out there … throwing it down for almost three hours. It was an incredible thing. The stage was his church. That's something I will always think about. It meant so much to him. He never BS'd when he was out there. He always made it count.
How did all those emotions you were dealing with affect the process of making this record?
It was raw. Those were real emotional times. You're always trying to dig deep and get to the most honest place. This time, there was a completely different level. You were never away from it. We were still processing it.
There were also a lot of beautiful moments. We'd almost lost Kofi the year before to the same heart condition, but he was back and healing and in the studio with us, and he'd written these beautiful string charts for a string quartet that he conducted for two or three songs.
We owe so much to him, in so many ways, musically and otherwise. He wrote parts of almost every song and contributed so much, every time we hit the stage we feel he was such a big part of it all and you need to keep those things right in front of you.
I remember thinking how amazing it was to have him back and doing these things kind of on his second act, borrowed time, in a way. I remember realizing how important those moments were and how lucky we were to witness them.
The album isn't all sorrow and loss. There are some explicitly redemptive moments, like "Strengthen What Remains." Distill the theme of "Signs" into a sentence or two.
Well, the feeling of that tune is the gist of the record. That was almost the title of the record, but it felt a little clunky. But that's kind of the overall sentiment: There's a lot in the air, and things hit you, but I feel like gratitude is where you need to land. I feel like that's where we ended up, when all was said and done.
Susan's voice really stands out on this record. She is so versatile. I feel like she doesn't get the recognition she deserves. How has her voice evolved since you met her and started working with her?
It's pretty astounding to me how she keeps evolving and getting better, and by not a small amount. I feel like every record we've done she reveals and discovers different layers of her voice. She's always been powerful. The first time I saw her she could hit a place I hadn't heard anyone go. She could pin someone to a wall.
Then we'd be around someone like Little Milton or B.B. King or John Lee Hooker or the genuine articles, and they would recognize it right away and accept her as one of their own. They'd tolerate the up-and-coming, hot-shot musicians and be nice to them, but they treated Sue like she'd always been one of them. It was a very real thing.
I can't think of anyone else I'd rather hear sing or write songs with or for. It's astounding that a band like this that plays like we do has a vocalist up front that is ahead of the pack. A lot of times it's a singer that's just good enough to hang on and try not to bring down the level of the music. This band is stacked with singers that push it.
She really shows her range on the album's finale, "The Ending," a spare, naked acoustic hymn about loss. It's pretty gut-wrenching.
That is essentially a recording of me and Oliver Wood and Sue sitting around and writing verses about the Colonel and paring them down to the most powerful ones.
We only played it that one time — when she was singing it. It was as raw as it could get. She was full in it; we all were. I couldn't go back and listen to it for a while. We've never played it live.
But there were heavy tears while she was singing it. You can hear her singing through it. It was someone who meant a lot to her and she cut right to the heart of the matter.
Your band has a reputation for being dynamic every night — so much energy and passion. How difficult is it to sustain that reputation and deliver it every show?
It's a bit, I don't know if daunting is the word. You can't expect to get to that place every night but then you look around the stage and realize even if you're not having your best night, someone will kick you in your backside at some point. That's where this band has grown over the past several years.
Sometimes it's just realizing you don't have to do everything all the time, that it's OK to take a breath and wait for your moment. This band is really good about that.
But, yeah, this band has had nights where even the average is really good, but lately I feel like the floor has really come up. Even the off nights feel really good. When you do 100 shows a year, not every one can be your greatest. But the last tour we did was amazing. They all felt really near the top.
How does it feel after touring with the new lineup for a while?
The last shows we did — we did three in Boston — it felt like a new band for the first time since Kofi was gone. We had Gabe Dixon playing keys and singing and Brandon (Boone) playing bass, and for the first time we let it be the group and didn't try to straddle what it was and what it is. We finally relaxed into what it is, which was really hopeful and a good way to end the year.
You and Susan have two children. How as fatherhood affected you, personally and professionally?
When you first have kids it puts things in perspective real quickly. When you get married you're no longer the center of your own universe but you still can be. When you have kids it really shifts, and I think that's really healthy, especially for certain personalities.
Immediately I felt like a better person. We have a 15-year-old daughter and a 17-year-old son, and the last few years have kind of made me realize that no matter how well you're doing in other aspects of your life, you can never let up or take your eye off [parenthood]. As soon as you think things are fine, something will pop up, something you realize you hadn't dealt with or given enough attention to.
These are complicated times to live in, let alone raise children.
It's kind of insane. You have to worry about bomb threats and guns in high school, things we never thought about when I was their age. It's stressful and you can feel vulnerable as a father. You feel you can control and protect most things in your life, but other times there's only so much you can do. And you have to realize you have to let go a little bit, but you can never let up.
You've been to Kansas City several times. What are your recollections of your times here?
I've always really enjoyed it. It's one of a handful of cities in the states with a serious musical tradition, especially for the music we play. Any place where Charlie Christian hung out or Count Basie — those are our roots. So there are streets to wander and imagine how it was at a certain time.
I have a lot of family from Kansas. My mom is from Wichita and she has a big family, so it's always a big reunion when we get out there. My mom was over here the other night and she's really pumped about the Chiefs. That's pretty exciting.
And in Kansas City we're always on the food search for barbecue. The drummers especially end up loading up. We do the run; we hit all of them.
Tedeschi Trucks Band performs Tuesday, Jan. 21 at the Kansas City Music Hall. Show time is 7:30 p.m.
–Timothy Finn wrote about popular music for The Kansas City Star from 1996-2018. He now writes about music for IN Kansas City magazine and co-hosts a music show every Thursday from 4 to 5 p.m. on 90.9 The Bridge.
Related articles