909 News
Freight Train Rabbit Killer's comic book debut
Above image: Todd Zimmer
A depiction of the Americana duo's unsettling underworld
For the past three years, Kris Bruders and Mark Smeltzer have combined their creative alter egos to tell dark, frightening musical stories as the besieging Americana duo Freight Train Rabbit Killer.
Bruders embodies Freight Train, a vigilante determined to ruthlessly eradicate the world of its corrupt powers. With the aid of his bristling slide guitar, Freight Train wails doomy Delta blues with a shiver-inducing authority.
Between the natural and spiritual realms exists a rabbit-like shaman who holds supernatural powers. Smeltzer assumes the Rabbit Killer role by conjuring the eerie undertones of folk and bluegrass, often with instruments he created out of found objects.
The fusion of these two musicians and their personas is where the story takes shape, but they pull the audience into their shadowy, pernicious center with transcendental live performances. This weekend, Freight Train Rabbit Killer looks to further draw its audience into an unsettling underworld by releasing a comic book.
"As we traveled and played music, we would talk about these characters and develop this world around them," Bruders said. "The story needed to be told in another medium."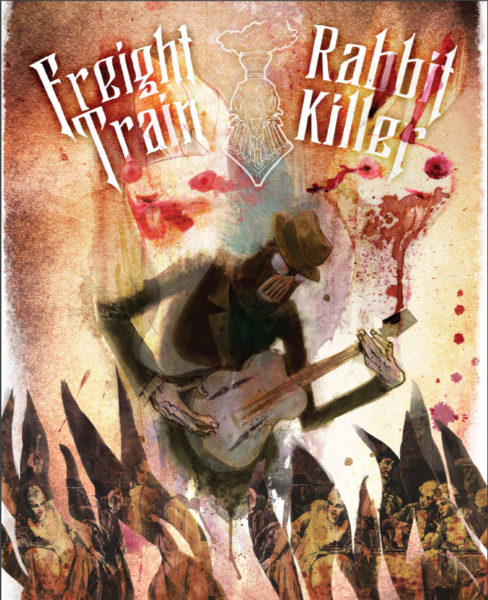 Cover art: Héctor Casanova
Hence the book, a pre- and post-apocalyptic story that follows Freight Train on a brutal path to begin his journey with Rabbit Killer. Illustrated in gloomy sepia watercolor tones and stark, jarring pen lines by Patrick Quinn, the book is sheathed in Héctor Casanova's striking cover design.
"What I love about this band is that they expand what they do way beyond just music, into the world of theater and storytelling," Casanova said. "The music is both hauntingly beautiful and rockingly chaotic. It strikes a fine balance between fist-pumping chaos and heartbreaking beauty."
While providing audiences with a chance to enter the intriguing, disturbed minds of Freight Train Rabbit Killer, the comic book propels the band's already enthralling live show. It introduces a new element and perspective to the duo's bone-chilling, mystical performance, and elicits a riotous energy of mass hysteria.
"We want people to become hopelessly addicted. We want them to feel empowered," Smeltzer said. "Music is a powerful thing. It's how we feel. And we would want nothing less for them."
Freight Train Rabbit Killer commemorates the release of its comic book this Friday, Oct. 28, at recordBar. The duo will be accompanied by its Legion of Ghosts, which includes a three-piece horn section, organ, pedal steel and a rhythm section with auxiliary percussionists. Tickets are available.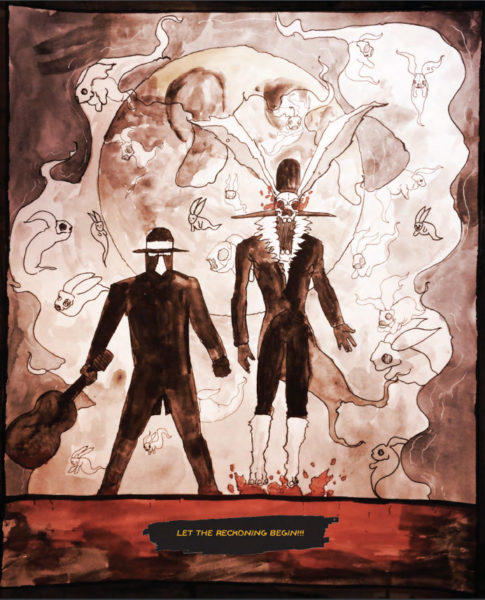 Comic book excerpt | Illustration: Patrick Quinn
— Michelle Bacon is a musician and writer dedicated to the Kansas City music community. She advocates for and helps spotlight music in the area, writes web content for 90.9 The Bridge, and plays with The Philistines and Chris Meck & the Guilty Birds. You can also catch her among Freight Train Rabbit Killer's Legion of Ghosts this weekend – she'll be the one in the mask.
Related articles