909 News
Calvin Arsenia Releases 'Catastrophe' and Galvanizes Audiences
Calvin Arsenia would like your undivided attention.
"I have a great expectation that music should be a transcendent experience that involves everyone in the room," said the 26-year-old multi-instrumentalist and songwriter.
Sure, it might be difficult not to pay attention to a man who stands at six-foot-five, possesses a towering vocal range and plays a harp. But to Arsenia, it's not quite enough: "My job is to create a moment, look at the audience to get a feel for where they are, and never leave them behind."
Next week, Arsenia will immerse his audience in the experience of his new album "Catastrophe" — a work he considers "a journey of romance as a character and entity, from ecstasy, through doubt, questioning, loss and acceptance." This will be Arsenia's debut full-length and first traditionally formatted record; he has released nine other EPs. His last EP, "Prose," was recorded while he lived in Edinburgh, Scotland. He moved back to his native Kansas City in 2014 and began working on "Catastrophe," bringing in a host of talented local musicians, including Reggie Watkins, Teri Quinn, Jessica Paige and Jeff Harshbarger.
The release show — next Tuesday at recordBar — promises to entertain the senses, with models to accompany audience members to various activities; interactive art; lights by Quixotic; a literary companion to the music; a string quartet and more.
Arsenia's first instrument was his voice — he sang and improvised "little diddies" as far back as he can remember. "In middle school, my friend and I would sing to a Walkman on the back of the bus," he said. "She was in choir, and they needed guys. I didn't want to do it, but she peer pressured me into singing for her teachers. Eventually, I got used to it."
From there, he picked up acoustic guitar, piano and just five years ago, harp. He honed his voice and his musical abilities through performing in church, and studied classical voice at Johnson County Community College. And though worship music and classical training are not exactly modes of self-expression, the disciplines informed Arsenia about the art of engagement.
"In church, you are facilitating a union of voices and minds of non-musicians, so everything has to be straightforward to create a collaborative moment," he said.
And through improvisational worship, the artist developed a malleable sort of musical mentality — one that seeks to elicit emotion in the listener. Improvisational worship involved reading scriptures, meditating on the core of the message and expressing the phrases and prayers through music, often for three hours at a time. In his own live performances, Arsenia will routinely alter a song to get a crowd's reaction.
"You have to do something that puts question marks all around their heads," he said. "Sometimes I'll repeat a phrase over and over, or add a couple measures of a drum fill so they'll wonder what's going on, then I've got them. I need to get them all on the same page or I'll leave them on the tracks."
And with his musical knowledge, Arsenia is able to communicate more effectively with a band and to an audience. He likens his classical training to language acquisition. "When you're learning a language, you do a lot of repeating, reciting and listening to different dialects, tones, inflections and colloquialisms. But if you can only recite or listen, you don't really get to express your thought," he said.
Arsenia considers himself a bridge between various groups because of his ability to fuse genres, his Christian faith and his mixed race; he is of African-American, Native-American and European descent. He provides a backdrop of intimate, experimental R&B-flavored songs and soaring, heartrending orchestral movements under the striking timbre of his voice. He brings an audience into his world by creating an intimate space for them to participate in the musical experience.
"I want to be somebody who steps over the wall and makes it OK for everybody," he said.
"Catastrophe" will be released on Tuesday, Nov. 15, at recordBar. Tickets are available.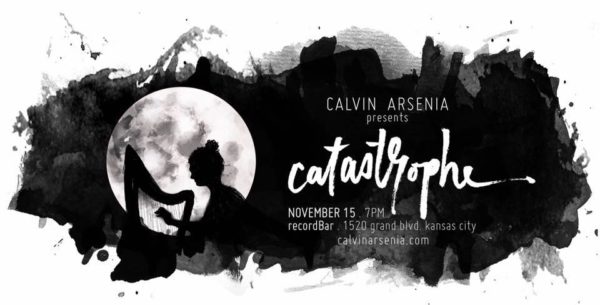 — Michelle Bacon is a musician and writer dedicated to the Kansas City music community. She advocates for and helps spotlight music in the area, writes web content for 90.9 The Bridge, and plays bass and drums in bands. Her grandma will always be the coolest person she knows. Feature photo: Jenny Wheat Photography
Related articles