909 News
Boulevardia 2017: Five Things To Know
Above image: Bears and Company performs on the Chipotle Homegrown Stage on Saturday at 2:20 p.m. | Photo: Anna Selle
Since 2014, thousands of people have made the journey across the 12th Street Bridge to the pop-up nation of Boulevardia every third weekend in June. With live music, an extensive maker's market, a family fair, food trucks and, of course, plenty of beer — the festival attracted attendees from 43 states and seven countries to KC's West Bottoms district last year. Even if you've visited in the past, be prepared for a couple of big changes at this year's festival. Most notably, the event has moved a few blocks over from the West Bottoms to the Stockyards District. We help you get oriented with a few tips before you head out:
1. Hear something new.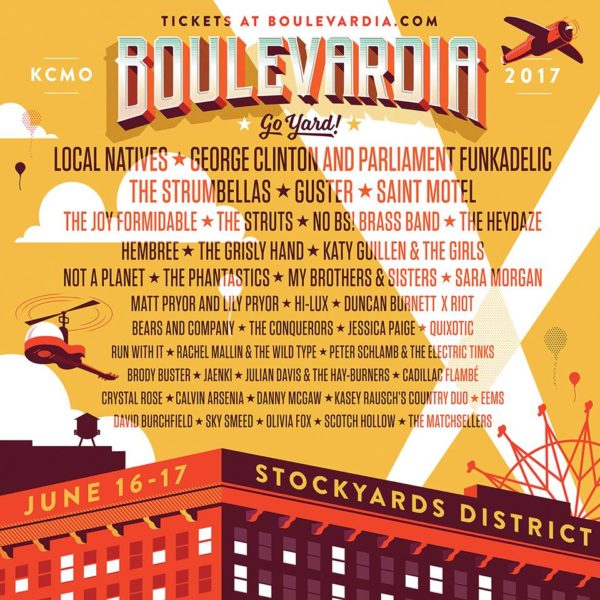 With 42 bands and three stages that will house national headliners, KC favorites and up-and-comers, you'll surely find something new. Here are a few you may not be aware of: With its amusing, engaging stage show, it's always a treat to spot The Matchsellers on a local bill. The folk duo — who splits its time between KC and Warsaw, Indiana — performs Friday at 8 p.m. on the Vinebourgh Acoustic Stage. If jazz is more your speed, don't miss Peter Schlamb and the Electric Tinks on the Chipotle Homegrown Stage, 1 p.m. on Saturday. Schlamb, an accomplished vibraphonist, leads the group with high-spirited, riveting compositions. Bears and Company performed its first show in over a year at May's Middle of the Map Fest. In case you missed it, see the soaring indie rock band take the Chipotle Homegrown Stage at 2:20 p.m on Saturday. Songwriters David Burchfield and Danny McGaw both moved away from Kansas City in recent years — Burchfield to Colorado and McGaw to California — but occasionally return to perform and visit family. They'll both be playing on the Vinebourgh Acoustic Stage on Saturday; Burchfield plays at 4 p.m., and McGaw at 6 p.m.
2. Hang with The Bridge.
We'll be in the Stockyards both days, sending out plenty of recommendations for your Boulevardia experience through our Instagram account. Be sure to follow us at 909thebridge. You can also add to our photo pile through The Bridge app (on iOS or Android) — use it to take photos while you're there, and access our Boulevardia Spotify playlist in the app's News section.
3. Spoil Dad.
Boulevardia traditionally takes place on Father's Day weekend, but this year, the festival condenses its entertainment down to two days — Friday and Saturday — instead of three. Take Dad to hear some great music and share some brews for the first two days of the weekend (father/daughter act Matt and Lily Pryor headline the Vinebourgh Acoustic Stage on Friday night), then enjoy some down time with him on Sunday.
4. Hitch a ride.
Like any other large-scale event, parking will likely be a hassle. So here's a chance to get some cardio in. Ride2Boulevardia offers a 15-, 31- or 62-mile ride on Saturday morning before the fest kicks off. As an added bonus, you'll be helping support cancer research and patients — ticket sales benefit Cancer Action and Children's Mercy Hospital.
5. Eat, drink and be happy.
By Friday afternoon, you'll probably be ready to indulge in a few adult beverages. Take off a little early and take advantage of Boulevardia's happy hour from 4 to 6 p.m. on Friday. A selection of beers will be $2 off, and you can catch sets on each stage from Rachel Mallin and the Wild Type, Jaenki, Nicholas St. James, Dylan Guthrie and the Good Time Guys, and the No BS! Brass Band. Get the lay of the land ahead of time with these handy graphics to help you navigate the event.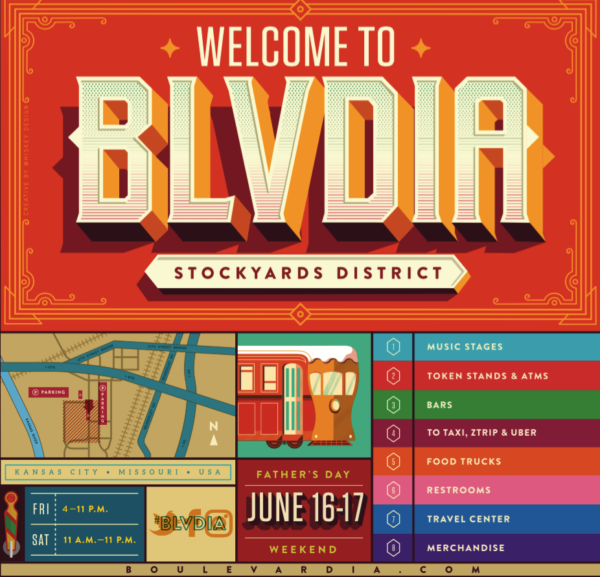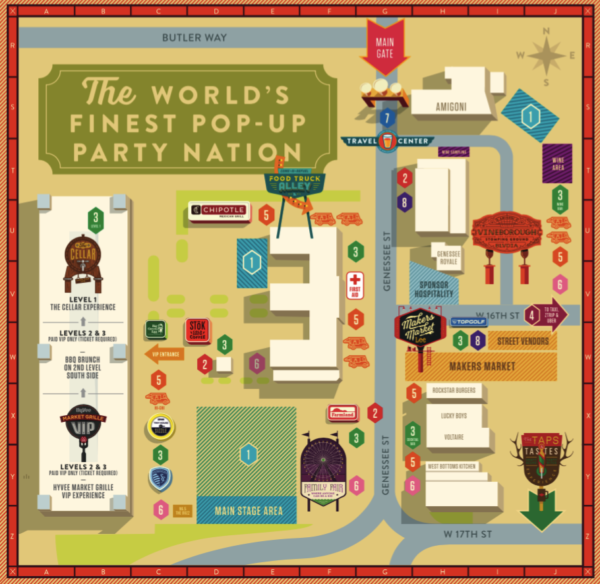 Listen to this week's Eight One Sixty to hear from a few more of the acts playing at Boulevardia. Get your tickets here. —Michelle Bacon will be taking over The Bridge's Instagram page on Friday night, so be sure to follow 909thebridge if you want recommendations on what to do at Boulevardia.
Related articles